---
Summary
❤What if the bank robber she's after is the childhood sweetheart she might not be over?❤
After Regina, longing to be an investigator, spots a pattern in far-flung bank robberies, she wins approval to go undercover at three rodeos to find out more. The first day she on the job at the rodeo, she runs into – literally – her childhood sweetheart, Chapin.
And has the horrifying realization that rodeo cowboy W.C. Johnson, one of three prime suspects who fit the robbery pattern, is her Chapin — William Chapin Johnson – competing under a hidden identity.
To keep Reggie from blurting out his real name in that first instant, Chapin grabs her and kisses her. One word and she can ruin what he's been working for.
Chapin is trying to make a comeback on the QT. He'd been on the cusp of stardom as a bronc rider until a nasty injury and botched recovery leaves experts saying he's done. As far as the rodeo world's concerned, he's retired and living happily on his ranch. But he can't let it go. Needing time to work his way back in, he's been rodeoing in unfamiliar small-town events, and under a different name.
Now, to keep from being outed just as he's making progress, he has to take Reggie into his confidence. But even after all these years he knows her too well not to realize she's keeping a secret from him. What on earth is she up to?
How will Chapin react if he finds out he's suspected as a bank robber? With this second chance, can they overcome the issues that drove them apart in the first place? Who the heck is robbing banks on the rodeo circuit and can he (or she) be stopped?
What readers say about Ride the River
"Had me on the edge of my chair throughout the whole book. ... A little love, mystery suspense all rolled into one. I highly recommend this book. . . 5*++"
"I wasn't sure I'd like this book since I've never even been to a rodeo, but Patricia McLinn used her magic to pull me into the story, just like always. I enjoyed this book, learned a little about rodeos, and felt it was a good mystery."-5*
"Suspense and a healthy dose of humor." -5*
"Loved the characters!" -5*
"An amazing read. Has everything you need, romance, suspense, mystery, and thrills. . . I never guessed who the villain was." -5*
"Great book . . . Bravo!" -5*
"Interesting characters, solid well-developed storyline . . . nice suspense and a healthy dose of humor. As a bonus, we also get to visit with some heroes and protagonists of her other stories set in Wyoming!"-5*
Ride the River: Characters go to three fictional Wyoming towns used as settings in other Patricia McLinn books — Sherman (Caught Dead in Wyoming mystery series), Bardville (Bardville, Wyoming trilogy) and Park (Wyoming Wildflowers). Plus cameo appearances by characters from those series. If you read Ride the River first, dive into those connected series now.
Explore these connected stories:
The Wyoming Marriage Association
First Date: Divorce
Second Start: Family
A Place Called Home series
Lost and Found Groom
At the Heart's Command
Hidden in a Heartbeat
Bardville, Wyoming series
A Stranger in the Family
A Stranger to Love
The Rancher Meets His Match
Wyoming Wildflowers series
Wyoming Wildflowers: The Beginning (Snowberry)
Almost a Bride (Indian Paintbrush)
Match Made in Wyoming (Fireweed)
My Heart Remembers (Bur Marigold)
A New World
Jack's Heart (Yellow Monkeyflower)
Rodeo Nights
Where Love Lives (Threadleaf Phacelia)
A Cowboy Wedding (Mixed bouquet)
Making Christmas (Pasque Flower)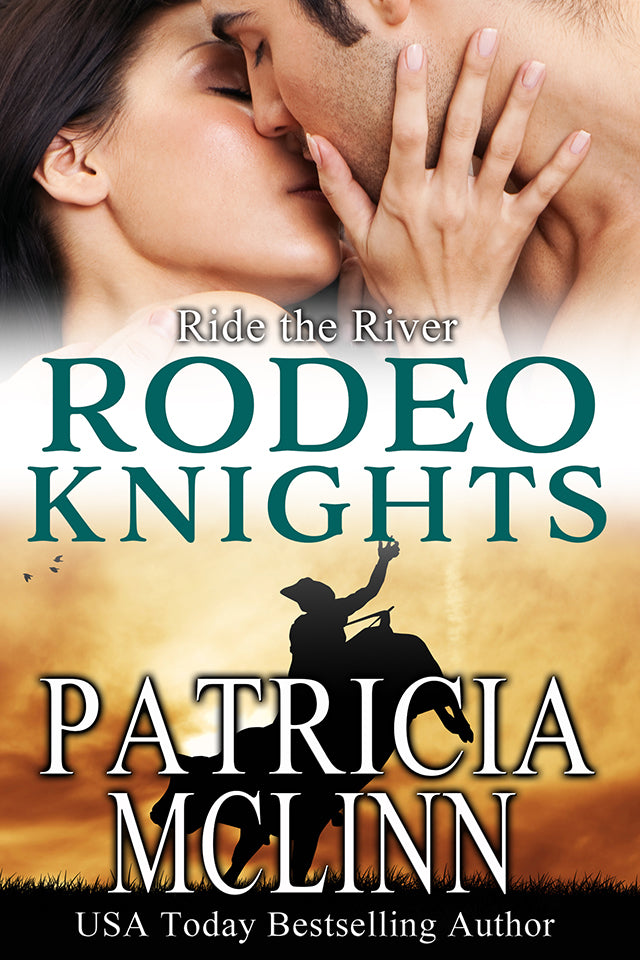 Ride the River by Patricia McLinn is the last of the series of Rodeo Knights. Patricia continues to write excellent and spellbinding books with wonderful plots and in-depth characters. Had me on the edge of my chair throughout the whole book. It's easy reading with a little love, mystery suspense all rolled into one. I highly recommend this book and the whole series. 5*++ If only these authors could write a follow-up.
Ride the River
Bill Chapin Johnson was a bronc rider and he's trying to come back after a serious injury. The last person he expects to run into...literally...is someone from his past. They'd parted ways ten years ago. And yet, there may be some sparks left over.