---
Read more in this series: Seasons in a Small Town
Regular price

$5.99 USD

Sale price

$0.00 USD

Unit price

per

Regular price

$5.99 USD

Sale price

$4.99 USD

Unit price

per

Regular price

$5.99 USD

Sale price

$4.99 USD

Unit price

per
---
Summary
❤ Can she risk letting him melt her? ❤
Seasons in a Small Town – Winter
"An absolute delight." -5*
The past is cold, but it's familiar for Anne. And the future? Hers might be as gray as a mid-winter Illinois sky. She has reason to be grumpy. She's desperately trying to hold on to the family farm owned by her late husband's great uncle. With Uncle Everett disabled and her new to farming, the make-or-break loans are impossible to get. And time will run out when spring comes.
Between the farm and the bookkeeping she does for businesses in town, she's working to exhaustion. And she's not good at asking for help. Never has been.
Then here comes full-of-cheer Quince. 
As an executive of the high-tech company bringing operations to small-town Drago, Illinois – and driving up land prices and taxes – he represents part of Anne's problem. But that doesn't mean she can afford to turn down his rent money when Uncle Everett lines him up as a boarder. And – just what she needs — the two of them hit it off like an old-fashioned comedy team.
This man is no farmer. He's the opposite. And now he's right here, living in her house.
Quince is a warm front moving fast through her home, her life, and her heart, promising spring even when all around is frozen. His quick humor and easygoing ways reach deep into the coldest part of Anne's troubled heart.
But she realizes that behind that front, Quince, too, has icy demons.
Can Anne save not only this farm she loves, but also herself ... and Quince?
What readers say about Warm Front
"I really enjoyed this book & the complete series . . . Almost wish I lived there." -5*
"What an endearing bunch!" -5*
"Anne and Quince and all the people of Drago are in good hands with McLinn. I'm not a small-town girl but I enjoy the friends and neighbors in this community. Good work!"-5*
"Enchanting, entertaining romance. ... I loved this series and this is the best one of all." -5*
Don't miss any of the Seasons in a Small Town series!
What Are Friends For? (Spring)
The Right Brother (Spring)
Falling for Her (Autumn)
Warm Front (Winter)
What readers say about the Seasons in a Small Town series
"I gobbled up these four smart intense romances in two days." -5*
"A page turner. I loved all the twist and turns. It makes you believe even the impossible is truly possible. Book to add to your reading list." -5*
"Always good. It is like sitting down with an old friend."-5*
"You laugh, you angst, you maybe shed a couple tears or two ... and at the end of it you move immediately onto the next book." -5*
"Funny, fresh and, a good love story." -5*
"Strong characters with enough faults to make them human and real." -5*
"McLinn delivers a fun, engaging, and emotionally complicated romance." -5*
"Poignant, heartwarming" -5*
If you like Patricia's small-town romances, don't miss her 'Marry Me' series now!
Wedding of the Century
The Unexpected Wedding Guest
A Most Unlikely Wedding
Baby Blues and Wedding Bells
Head West for the romance of the Wyoming Wildflowers Series
Wyoming Wildflowers: The Beginning (Snowberry)
Almost a Bride (Indian Paintbrush)
Match Made in Wyoming (Fireweed)
My Heart Remembers (Bur Marigold)
A New World
Jack's Heart (Yellow Monkeyflower)
Rodeo Nights
Where Love Lives (Threadleaf Phacelia)
A Cowboy Wedding (Mixed bouquet)
Making Christmas (Pasque Flower)
For more contemporary romance, try Patricia's series:
The Wedding Series
A Place Called Home
Bardville, Wyoming
The Wyoming Marriage Association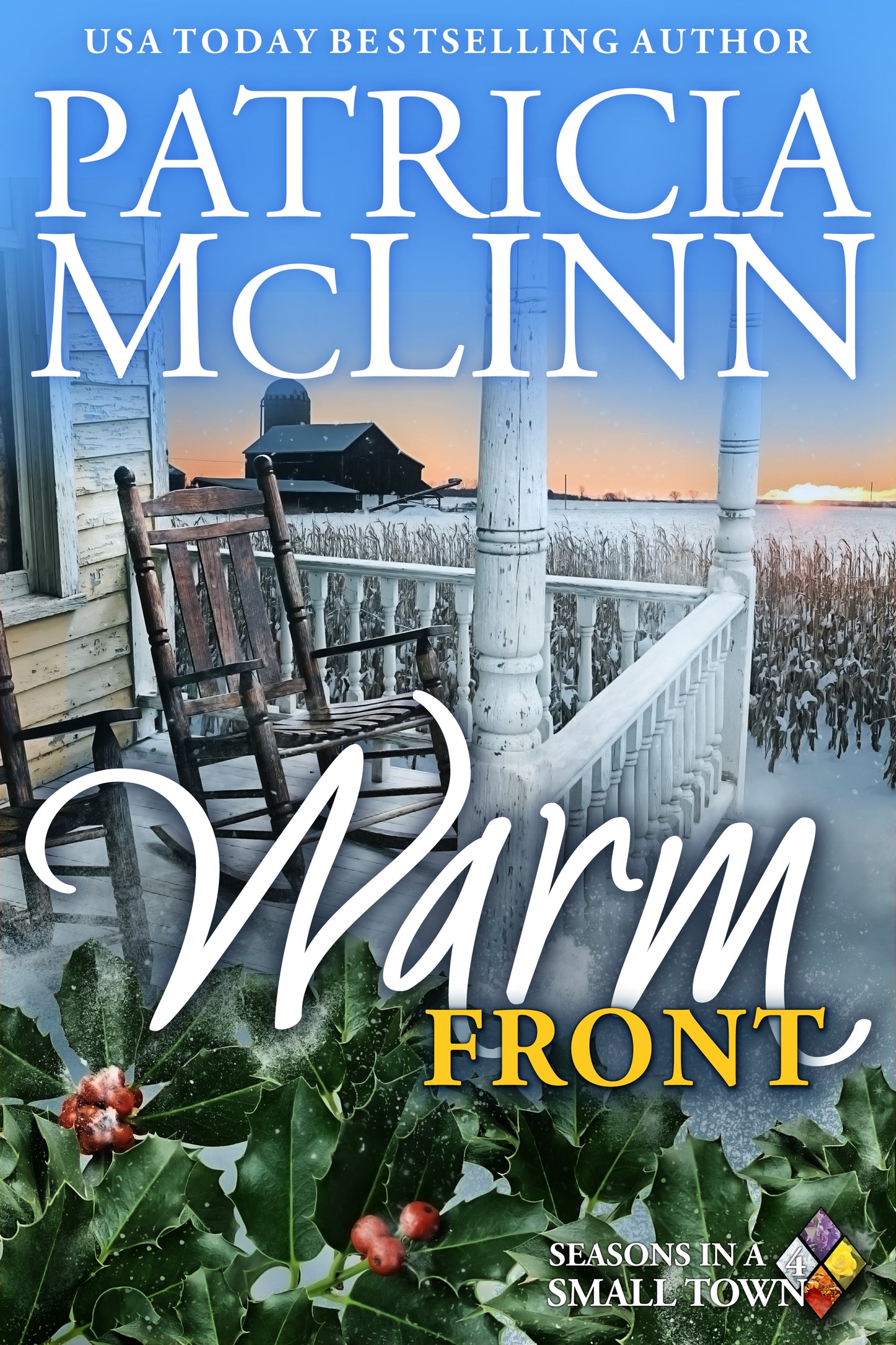 Warm Front
Beauriful story! Peter Quincy III doesn't want to stay with his newlywed friends, Zeke and Darcie. Since Zeke-Tech has moved into town finding housing has become quite difficult. He finally finds room and board at the Hopper farm with Anne a young widow and her uncle-in-law. Farming is not an easy way of life and Anne rebuffs all Quince's efforts to help with the farm. Can they save the farm and will Anne admit she is falling for Quince? Read on to find out. All four books in the Seasons series describe the changing town of Drago and it occupants. They are a great read!
Great Book
I really enjoyed this book & the complete series, so much inter-action with all the towns people , almost wish I lived there. I love all of your books.