---
Read more in this series: The Wedding Series
Regular price

$5.99 USD

Sale price

$4.99 USD

Unit price

per

Regular price

$5.99 USD

Sale price

$4.99 USD

Unit price

per

Regular price

$5.99 USD

Sale price

$4.99 USD

Unit price

per

Regular price

$5.99 USD

Sale price

$4.99 USD

Unit price

per

Regular price

$5.99 USD

Sale price

$4.99 USD

Unit price

per

Regular price

$7.99 USD

Sale price

$4.99 USD

Unit price

per

Regular price

$5.99 USD

Sale price

$4.99 USD

Unit price

per

Regular price

$9.99 USD

Sale price

$8.99 USD

Unit price

per

Regular price

$9.99 USD

Sale price

$8.99 USD

Unit price

per

Regular price

$9.99 USD

Sale price

$8.99 USD

Unit price

per

Regular price

$9.99 USD

Sale price

$8.99 USD

Unit price

per

Regular price

$39.99 USD

Sale price

$27.99 USD

Unit price

per
---
Summary
❤ OPPOSITES? Oh, yeah. ATTRACT? Absolutely❤
She's all work and no play. He's an expert at fun. Their romance is the game of their lives.
Paul Monroe needs a temporary assistant while his is on maternity leave. Not an unusual situation for a small business owner… Except his savvy assistant knows Paul and his antique toy appraisal business require someone special. He's a charmer, all right. But not everyone appreciates his playful approach to life.
He needs a perfect fit.
Bette Wharton is all in to make her temp agency a success by matching the right temp with each client. She'll work as long and hard as it takes to follow her plan to success. So when she's hit by a shockingly high turnover rate for temps sent to Paul's business, she rolls up her suit sleeves to get to the heart of the problem.
She needs to dance through imperfections.
But what Paul wants is to spend time with her – in his version of forced proximity, as he expands the definition of on-the-job to dinners, pumpkin shopping, introducing her to his circle of friends, and more.
The no-nonsense businesswoman might have met her match when she squares off against Paul's determination to teach her about letting her hair down. Especially when she discovers a wounded heart beneath all his fun.
Can Paul and Bette get their timing right and find a perfect fit to dance together through the twists and turns of imperfections?
Prelude to a Wedding is the first book in The Wedding Series — feel-good contemporary romantic comedies. If you crave characters you'd like to know, magnetic chemistry, flirty workplace, humor with heart, and love to believe in, grab this heartfelt romance today!
What readers say about Prelude to a Wedding
"I melted. This story had a puddle version of me laughing and crying and cheering."-5*
"Great story, I loved every word. Hope she hurries and writes more. Wonderful, wonderful, wonderful. "-5*
"Loved it!! Super cute!" -5*
"Paul Monroe and Bette Wharton are complete opposites in how they approach life but the old saying is, ' Opposites attract.' . . . The love story is sweet . . . Prelude to a Wedding is the perfect title for two people not looking to get married and resisting even the idea of marriage."-5*
"Their story develops with a careful yet care free feel. . . . with heartfelt thoughts and dialog. I'm a sucker for happy endings and this story delivered.."-5*
"Despite their mutual attraction, neither can really imagine a future with the other even as they grow closer and more intimate. . . .Kept me reading"-5*
"I am SO happy to finally read something a little different. . . Sparks fly when they meet as she tries desperately to avoid becoming involved with him. The story is cute, the hero is a charmer, and there is just enough spice to make the romance believable. I am looking forward to the next book."-5*
"Loved it! I don't think I've ever read a story quite like this and that's a good thing! This author has a wonderful way of putting together words that make for a really fun read. A great part of this story is how the characters, Bette and Paul, spar back and forth and create such a fun atmosphere for making a loving relationship while fighting against doing exactly that."-5*
"Perfectly delightful! . . . Witty style and wonderful dialog . . . The chemistry between the two was terrific. . . . A wonderful novel. I recommend it to anyone who loves romance and humor and a well-written book."-5*
"A truly enjoyable read." -5*
"What a cute story! . . . Great romance that I highly recommend!" -5*
"Sweet, sexy, with witty repartee . . . The journey is delightful."-5*
"Fun, seriously good . . . and I would so tell all my friends."-5*
"Such a wonderful story! . . . Fell in love with the characters. I couldn't put it down!" -5*
"What a great story! The old adage that opposites attract is true for this story but this couple together makes both of them better."-5*
"Entertaining and just spicy enough. I really enjoyed it." -5*
"What a great read! Fun, lighthearted, romantic, steamy, and serious at times. You will fall in love with Paul and Bette just as assuredly as they do with each other!"-5*
"Absolutely awesome! Bette and Paul's story made me smile a lot. . . . It's a story of how opposites attract. I can't wait to read the next book . . . Wedding Party."-5*
"I loved this book! Paul lived his whole life fighting what was expected of him, until he met his match in Bette. You gotta go on this trip with them! Great read!!" -5*
"Fun! . . . I enjoyed it so much I ordered the 2nd book."-5*
"This book is sad and funny, but totally engrossing with a well-written romantic story line that reels the reader in. . . . Totally captivating"-5*
"I have contemplated Ms. McLinn's romance novels for a while now, wondering if I'd like them as well as her 'Caught Dead' series which I loved. Reading this book was perfect! I loved both Paul and Bette. Man, I bet everyone wishes for someone like Paul! And I'll definitely be reading more in the series." -5*
"Totally a fun book to read. It was so much fun watching them meet and be completely opposite of each other but still loving every minute they have together. . . . Love the book and will definitely read more of the author." -5*
"A great read. I thoroughly enjoyed the fun, thoughtful characters in this story. Charm, a few laughs and enough tension to make it very interesting."-5*
"Fun, romantic read. First time reading this author, and I loved it! I loved Paul and his quirkiness, and I loved Bette and the way she handled him! This is a match made in Heaven!"-5*
"Amazing book. The way the book is written right down to the very small details is just awesome. The wordings used make such a simple situation a really magical one. The story is full of love, added with humor along the way."-5*
"Brilliant!"-5*
"LOVED this book!! I couldn't put this book down! I am so excited to read the next book!"-5*
Don't miss any of Patricia McLinn's Wedding Series!
Prelude to a Wedding
Wedding Party
Grady's Wedding
The Runaway Bride
The Christmas Princess
Hoops
The Surprise Princess
Not a Family Man
The Forgotten Prince
What readers say about The Wedding series
"Patricia McLinn is my new favorite."-5*
"I feel like I've discovered a hidden gem in Patricia McLinn. I ran across this book last week and devoured it, then quickly went on to the next three books in her wedding series. The characters are wonderful - well-developed, relate-able, and lovable in their own ways. Patricia's style of writing is intelligent and witty. What a great romance. . . . On to the next McLinn!"-5*
"Light and romantic, sigh-worthy escapism and pure pleasure"-5*
"Love this series!"-5*
"I will definitely read the other books in this series. I highly recommend."-5*
"Thoroughly enjoyed it! Want to read the rest of the series now."-5*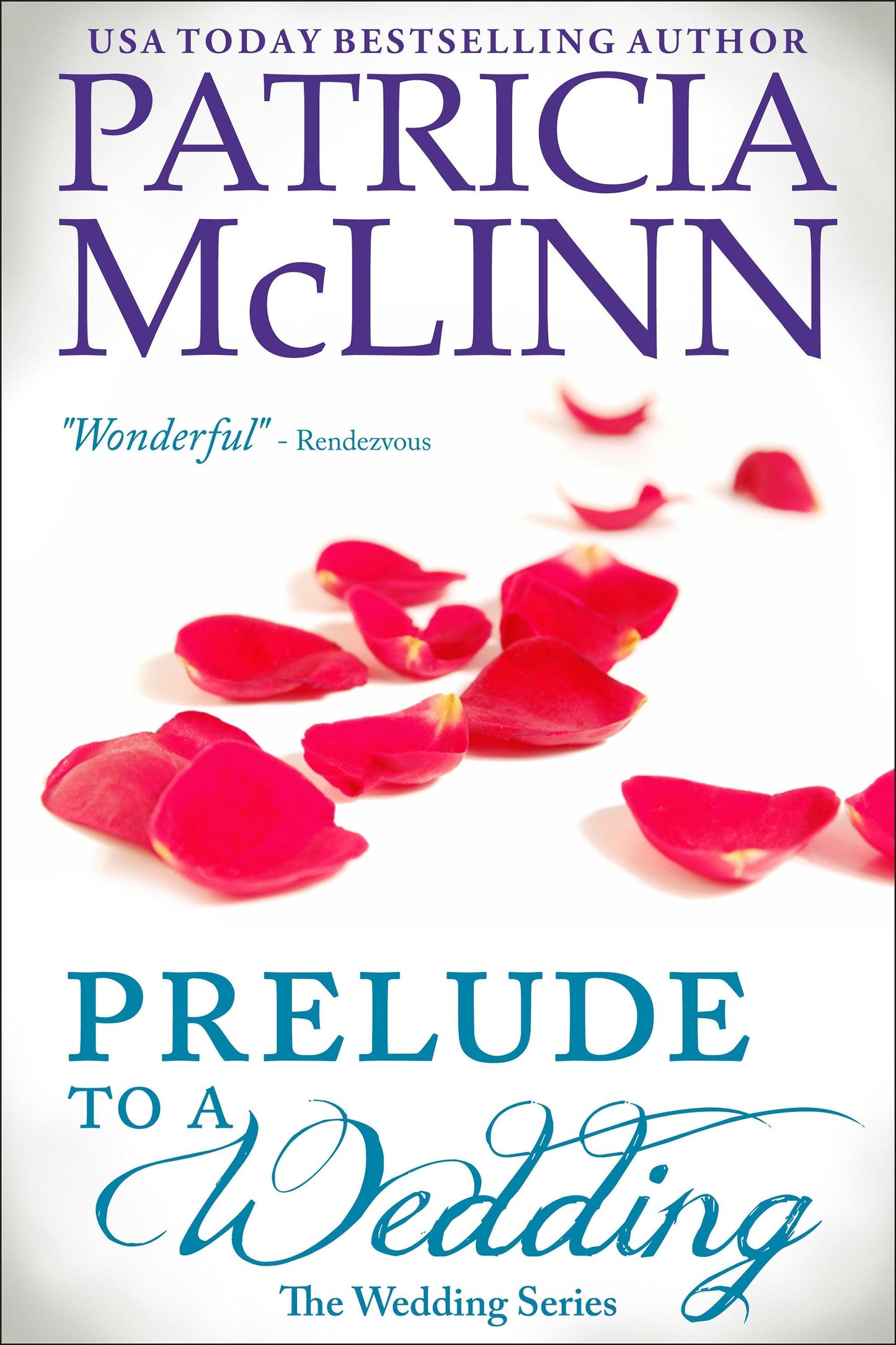 Prelude to a series I anticipate!
The plot was not a straight line to what is usually expected. Not hard to follow, but different! Easy to read as there were no grammatical errors, misspellings, or mixed up pronouns! On to the next one with great anticipation!
Prelude to a Wedding
Loved this love story! Funny, sweet, frustrating, and sexy, it gives you all the feels! Well written with great characters, you will totally enjoy the story of Paul and Bette!
Prelude To A Wedding
A marvelously well written tale of two opposites, both in taught ambition as well as character, working things out so that they can plan a future. Once started, the book was never put down!
Good book
I enjoyed this book even though it was completely predictable.