---
Read more in this series: Wyoming Wildflowers
---
Summary
❤ A second chance at love . . . or heartbreak. ❤
Time hasn't dimmed their bone-deep passion . . .
Ten years ago, Kalli left her rodeo cowboy husband, Walker Riley, unable to bear her terrible fear for him as he competes in his beloved sport. Or the fear that she might love him too much.
But passion wasn't enough to overcome fear a decade ago ...
How can that possibly change during this homecoming summer of forced cooperation to try to save the Wyoming rodeo that means so much to their beloved and stricken mutual mentor? 
Memories of their marriage — and divorce — bring pain each day. Walker faces down charging bulls every day in his career, but working side by side with Kalli in the confines of the rodeo office for a summer just might break him. 
Can the present carry them past the fears and broken trust ... to a second chance at a future together?
What readers say about Rodeo Nights
"This wonderful, sexy, deep and challenging man... Wearing a cowboy hat! Goodness, can it get any better than that?" -5*
"I loved everything about this beautifully written and emotionally turbulent second chance love story." -5* 
"Wonderful, sexy western romance" - 5*
"Cowboys-rodeo-Wyoming! Reunion love... Wonderful characters. I loved everything about this story." -5*
"I don't often give a 5-star rating, but this one deserves it from me as I will keep this book for years to come and revisit Kalli and Walker many more times."-5*
"Will they be able to overcome what broke them up? I love the journey they take us on. This is my second time reading and first time reviewing. Love this book!"-5* 
"This has to be one of my favorite Patricia McLinn books. I loved all the people in it. It made me laugh and cry."-5*
"Awesome. I loved, loved, loved this book. . . . I will definitely be reading more by this author and in this series."-5*
Don't miss any of the Wyoming Wildflowers series
Wyoming Wildflowers: The Beginning (Snowberry)
Almost a Bride (Indian Paintbrush)
Match Made in Wyoming (Fireweed)
My Heart Remembers (Bur Marigold)
A New World
Jack's Heart (Yellow Monkeyflower)
Rodeo Nights
Where Love Lives (Threadleaf Phacelia)
A Cowboy Wedding (Mixed bouquet)
Making Christmas (Pasque Flower)
What readers say about the Wyoming Wildflowers series
"I have read the whole Wyoming Wildflower series and loved them all. The people are so real. I find at the end of each book the desire to have the book keep going on and on." -5*
"Have read this whole series and have found them delightful and entertaining." -5* 
"Slash C ranch is an amazing place — partly because of its location, partly because of the people who get to call it home." -5* 
"The Wyoming Wildflowers series is a delight." -5*
"When I finished [Rodeo Nights] I bought several more of Ms. McLinn's books."-5*
"This series just keeps getting better . . . Bring on the next book!" -5*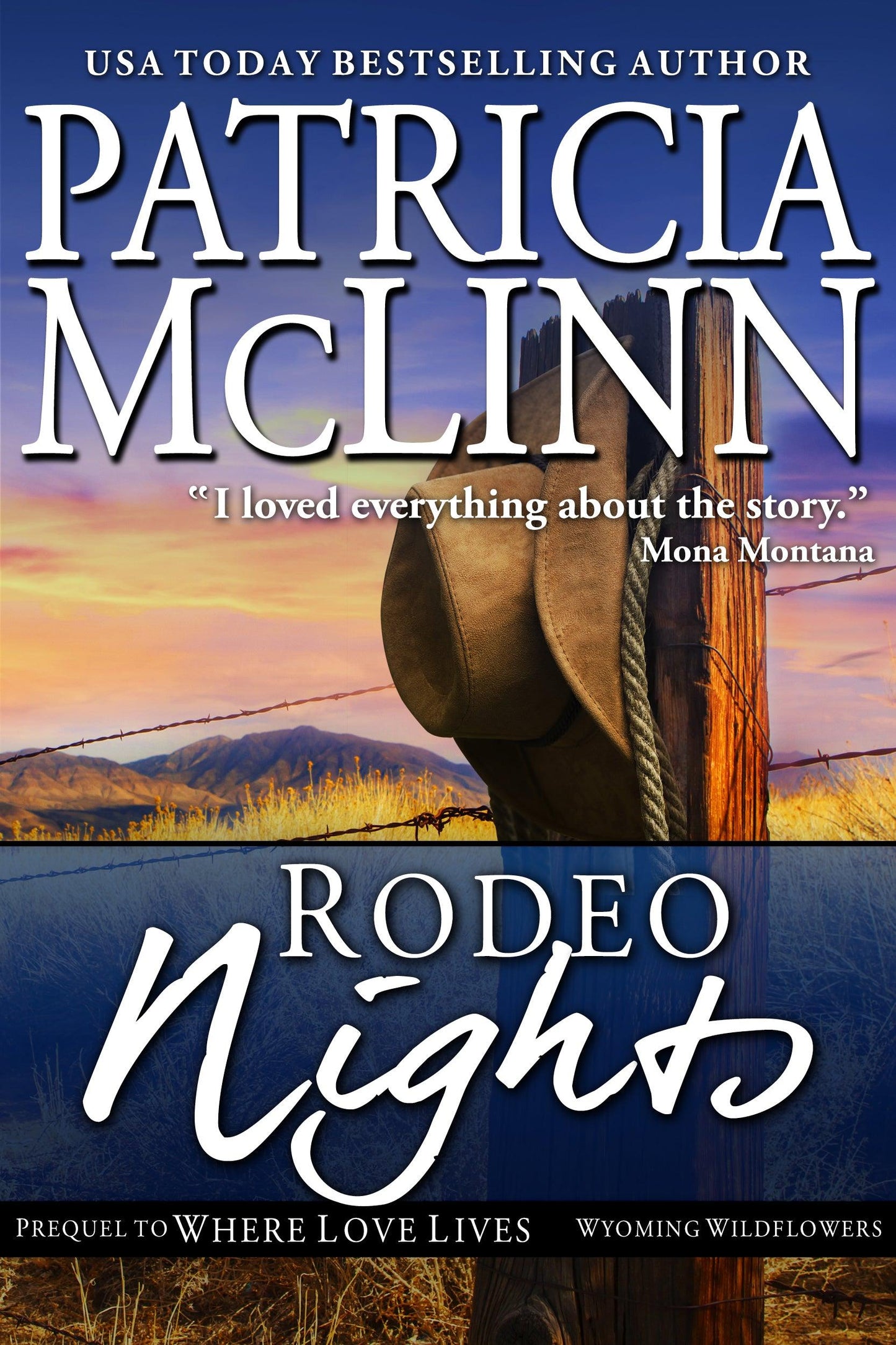 We all need a second chance at some time in our lives
Rodeo Nights is all about a second chance for love. Romances may have predictable endings, but it the journey to get to that destination that makes for excitement. Sharing those twists and turns that get two people back to the same place at the right time in their lives has been exactly what Patricia has written. We can all identify with them. Read and enjoy.
Kalli and Walker have missed out on ten years of love
Kalli and Walker have missed out on ten years of love by a marriage destroyed by two people too young to communicate their needs and concerns.. Brought together again to assist Walker's aunt and uncle in their rodeo business, they now have the chance to reconnect and heal. This is a wonderful story of the importance of true communication to express the hopes and fears that, once addressed, will provide a second chance for love.
Love a Cowboy
I sure did enjoy this book! Patricia is becoming one of my favorite authors!
Turbulent
I have been a big fan of Patricia McLinn for years and I loved everything about this beautifully written and emotionally turbulent second chance love story. I was immediately drawn to both characters because of their turbulent past and the tragedy that drove them apart and still haunts them both to this day. When they're thrown together by circumstances beyond their control they both have to find the courage to face their past and their fears and fight for each other. Rodeo Nights is a compelling-character driven storyline that is oh-so emotionally satisfying and I loved it.
THIS IS ABOUT SECOND CHANCES!
I did enjoy the story of Kali and Walker - they had been in love - divorced and came back together after 10 years to help out in a Rodeo. Their is lovemaking, that is mild, full of passion and jus enough of a description - not vulgar. This is a romance that builds slow, because our h is afraid to see that man that she loves be hurt in bull riding. It is about misunderstanding that end in HEA. There is an epilogue that wraps everything up in a nice bow.