---
Read more in this series: Secret Sleuth
---
Summary
Final resting place? Deck chair.
Sheila Mackey has a secret. To the world, she's the author of a blockbuster book. Her wily great-aunt, the actual author, orchestrated this mutually beneficial masquerade. Now her aunt's retiring and Sheila must draft Act Two of her own life.
A cruise across the Atlantic on the Diversion is supposed to be the perfect time to do that.
Two problems.
First, her great-aunt saddles her with an irksome relative.
Second, Sheila finds a dead body on deck.
She realizes she knows a whole lot more about the interactions of the victim and suspects than the ship's officials do. She's drawn into sleuthing, but finds herself hampered by a well-meaning but overprotective would-be Dr. Watson. Along with trying to keep her huge secret while digging up those of the victim and the suspects.
If you like mysteries about the inner world of writers, you'll love USA Today bestselling author Patricia McLinn's newest whodunit traditional mystery series with humor – "Secret Sleuth" — where even the sleuth has secrets (and a rescue dog named Gracie, from the second book on)
Get on board to sail away with crime, clues, and memorable characters.
What readers say about Death on the Diversion
"A mystery, a murder, a cruise and an intelligent, feisty, likeable main character. What more could you ask for in a cozy? I read a lot of books and this is one of the best I have read in a long time. The plot is very imaginative and well thought out. The details of the cruise are spot on and made me feel as if I was there . . . This book reminded me of a modern-day Miss Marple (although considerably younger.) I rarely say this, but I can't wait for the next book." -5*
"A totally unique protagonist — witty, grounded, human. An intriguing crime venue. I hope there are many more in this series." -5*
"If the characters in this book don't remind you of people you've met...you are hiding under a big rock!! . . . Absolutely side ripping fun!! Looking forward to my next purchase of Secret Sleuth." -5*
"This is a great book! The premise is original and fun. . . . The dialogue is smart, witty, incisive, dryly humorous, and realistic. . . Sheila's descriptions of Petronella's reactions on boarding the ship had me snorting (in a ladylike fashion, of course) with laughter." -5*
"The mystery is clever and intricate... reminiscent of the Golden Era of British mysteries . . . I thoroughly enjoyed this book, and I am looking forward to reading more of this series." -5*
"This was a good mystery with a victim you hated and a bunch of crazy suspects, each of whom could've done it! A fun ride!" -5*
"For all of you out there who love who-done-its and will read well beyond your bed time hour." -5*
"Now I want to go on a cruise! But only if I get to have some of the same adventures as Sheila. I enjoyed every part of this book." -5*
"A truly intricate puzzle that kept me guessing to the end. . . Looking forward to the next in the series." -5*
"This is one of the best mystery books I've read in a very long time! ... And I truly loved the main character!! I'm ordering the second book in this series as soon as I'm finished writing this review. Great book and I recommend it highly!!" -5*
"I will definitely be following Sheila to her next home." -5*
Starting in Death on Torrid Avenue, amateur sleuth Sheila returns to dry land, adopting rescue collie Gracie, and moving into a new-to-her home, finding that mysteries abound in small-town Kentucky.
Read all of the Secret Sleuth series
Death on the Diversion
Death on Torrid Avenue
Death on Beguiling Way
Death on Covert Circle
Death on Shady Bridge
Death on Carrion Lane
Death on ZigZag Trail
Death on Puzzle Place
What readers say about the Secret Sleuth series
"Beautifully combined LOL humour with twist and turn mystery." -5*
"Has Agatha Christie and Poirot in the garb of two fascinating ladies. A definite read for mystery lovers." -5*
"Delightful, fun read . . . A good dose of humor." -5*
"If you haven't discovered Patricia McLinn yet, you are in for a treat. I have not found a book of hers that I didn't enjoy . . . Check it out!" -5*
"Great full-bodied characters with secrets, each and everyone." -5*
"This series meets my criteria for twists, turns, and who-done-its easily. Patricia McLinn does not disappoint with her sharp characters and enough secrets to cover everything. If you like a good, clean mystery, do yourself a favor and read these!" -5*
"Murder and laughs. Can't wait for more." -5*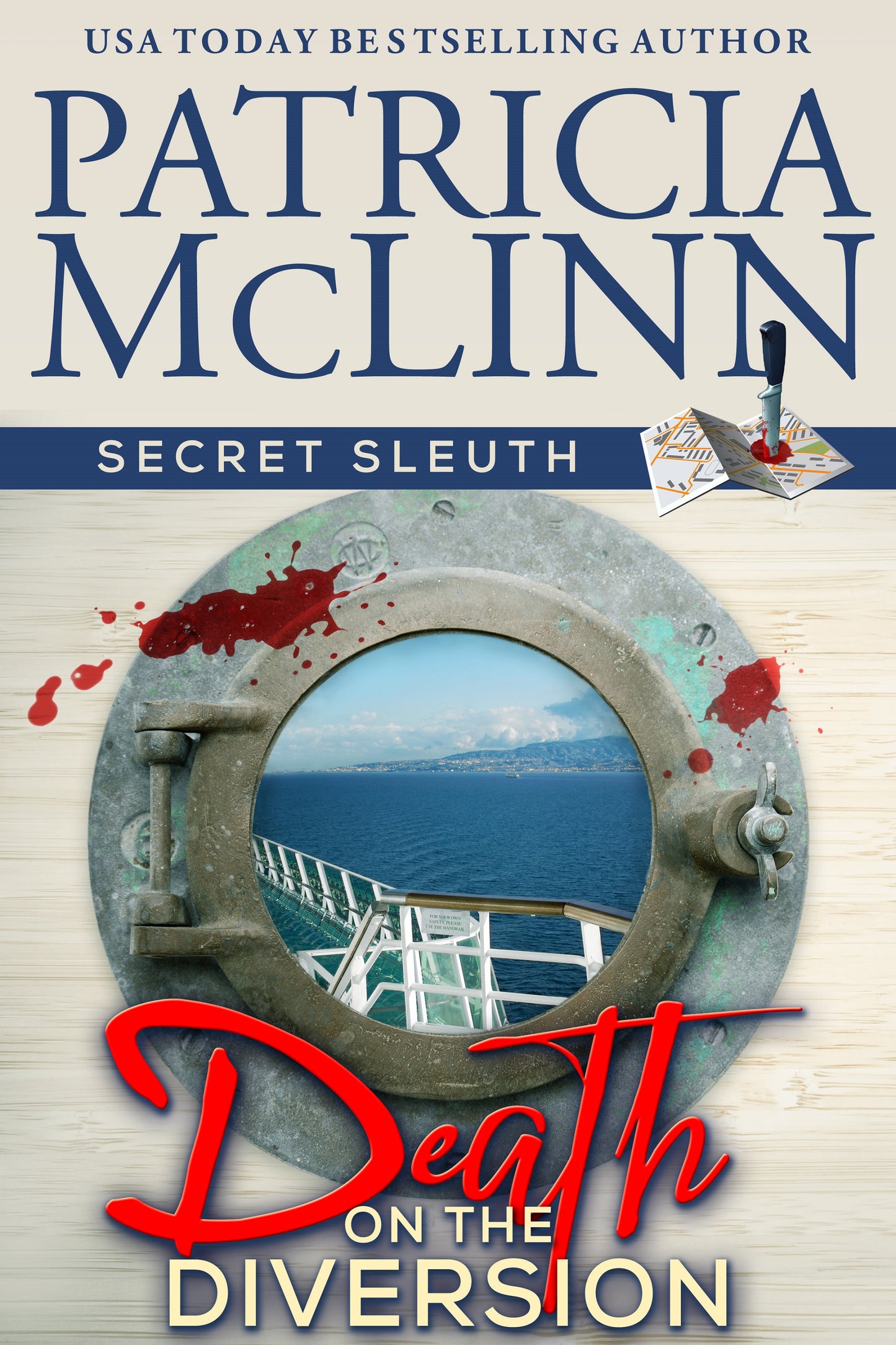 Characters, serious comics, crime
Love the attitude toward the seriousness of deadly crime but allowing for the peculiar, humorous aspects of the great characters & their circumstances- sorta like real life. Love Ms McLinns work.
Once the crime took place the story picked up
Took a bit to get into but once the crime was committed the pace /story got really interesting. I won't lie I was surprised at the culprit as I already had someone else in mind which is fantastic. Well done
good story, 3rd time that I have read it
Good series
I enjoyed reading this book and am going to read the other books, as I like these kind of stories that are good and enjoyable to read. I appreciate them and the story was interesting. The characters were well developed and the secondary story about the crew makes you wonder what is going on. I like mysteries that make you think.
Great Author!
This is the first book Ive read by Patricia McLinn and I really enjoyed the level of detail and the cleverness in her writing, much more than other authors Ive read on these ebooks. Ive never been on a cruise before but I have a good idea of how it works now after reading Death on the Diversion. Since I read in the middle of the night to get back to sleep, I also like that this book moved at a leisurely pace and not too intense to keep me awake. Having said that, its not boring at all and there were no slow places. Excellent all around and thus, the five star rating!