---
Read more in this series: Secret Sleuth
---
Summary
Paws for murder
Far from the publishing world that once defined her, Sheila Mackey has found a new life, a new home, and a new love.
The love has four legs, a plumy tail, and a lot of fur. Meet Gracie the rescue collie. Too smart for her own good – certainly too smart for Sheila's good, when Gracie discovers a dead body during a gambol at the Torrid Avenue dog park.
The deputy in charge of the investigation looks at Sheila, Gracie, and their dog-park buddies askance as the first to find the body. Out of self-preservation to offset his suspicions, she reluctantly pokes into the background of the dead dog trainer.
Especially since, as Sheila delves into the suspects — dragged into it by dog park buddy Clara — she discovers the new guy at the dog park with the cute lab mix is a barely retired detective from the city. Not good for an amateur sleuth with a big secret of her own that she intends to keep. Because she's not exactly who she says she is. At least she's not who she pretended to be for 15 years.
Will Sheila untangle the murder mystery before her secrets are untied, exposing her previous identity to her new small-town neighbors?
And will Gracie ever learn the "Quiet!" command?
What readers say about Death on Torrid Ave.
"Move over Agatha Christie there's a new sleuth in town. Patricia McLinn has created a fabulous new murder mystery series. Wonderful characters, both human and canine, with an interesting backdrop. I highly recommend." -5*
"5 stars for sure! Two dog trainers with differing training philosophies frequent the same dog park. One ends up dead! . . . I loved it. The characters were realistic. The plot made sense, especially to anyone who knows dog trainers. And of course, there was a twist at the end." -5*
"Had me hooked from the start. . . . Keeps us guessing on who really committed the crime. I enjoyed getting to know Sheila . . . and also getting to know her new friends in her new hometown in Kentucky. I think the fact that Sheila has her own secrets to hide makes it more interesting." -5*
"Great books. Can't wait to read the next one. Great characters and I love their reactions." -5*
"I had to laugh at the squabbling about the differing ideas concerning how to manage a dog's behavior. The ending surprised me." -5*
"Another winner . . . A lot of humor and the characters are good company. I thoroughly enjoyed myself and I am looking forward to the next story." -5*
Don't miss any of the Secret Sleuth series
Death on the Diversion
Death on Torrid Avenue
Death on Beguiling Way
Death on Covert Circle
Death on Shady Bridge
Death on Carrion Lane
Death on ZigZag Trail
Death on Puzzle Place
What readers say about the Secret Sleuth series
"Patricia McLinn's writing grown-up entertainment full of wit and charm that should satisfy the most discerning readers." -5*
"The trifecta: Funny, Clever and Clean! " -5*
"I'm excited to read more in the series and see how long she can keep her secret and see which one of her new friends will figure out her past first."-5*
"Another winner! Told with a lot of humor and the characters are good company. I thoroughly enjoyed myself and I am looking forward to the next story."-5*
"I so thoroughly enjoy this series and author that when a new book arrives, I drop everything to start reading." -5*
"Great series. McLinn's 'Secret Sleuth' series has the same winning components of her 'Caught Dead in Wyoming' series: a likable central character, well developed setting, fun supporting cast, and a great story. McLinn writes intelligent cozies that are a level (or two) above the typical offerings for the genre." -5*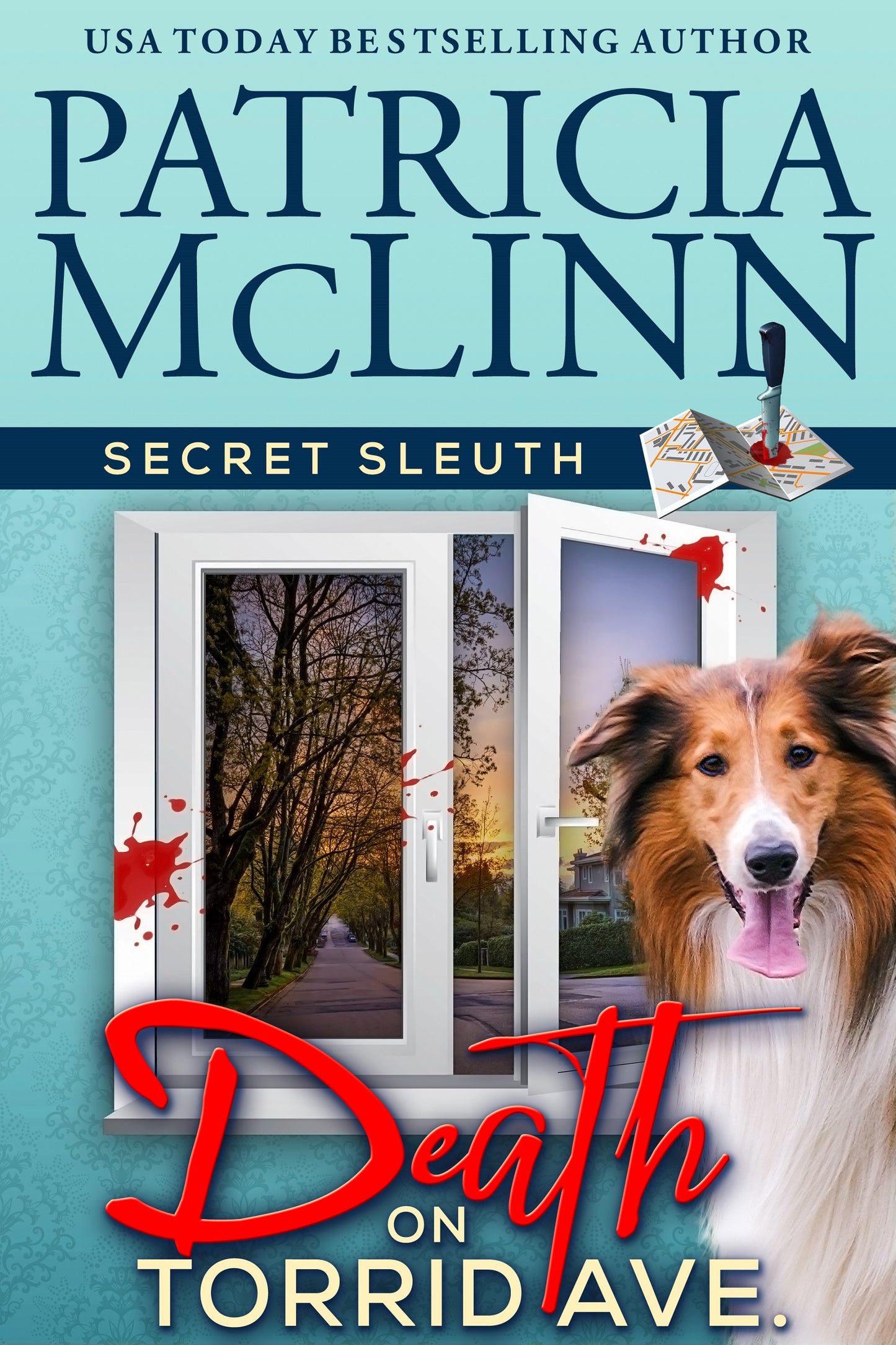 Very entertaining
Lots of fun to read. Moves along nicely. I would recommend to anyone wanting a light easy read
Death on Torrid Ave
Sheila Mackey has since settled into a new town since her exciting trip on the Diversion. She really enjoyed the sleuthing she'd done on her cruise...but for now, she has an older home to get into shipshape and the new love of her life. Gracie. Her rescue collie.
Awesome
This is a great story. Mystery and a little romance. Had me guessing who done it. Got to get the next one.