---
Read more in this series: Caught Dead in Wyoming
Regular price

$5.99 USD

Sale price

$4.99 USD

Unit price

per

Regular price

$7.99 USD

Sale price

$5.99 USD

Unit price

per

Regular price

$6.99 USD

Sale price

$5.99 USD

Unit price

per

Regular price

$6.99 USD

Sale price

$5.99 USD

Unit price

per

Regular price

$6.99 USD

Sale price

$5.99 USD

Unit price

per

Regular price

$6.99 USD

Sale price

$5.99 USD

Unit price

per

Regular price

$3.99 USD

Sale price

$3.49 USD

Unit price

per

Regular price

$6.99 USD

Sale price

$5.99 USD

Unit price

per
---
Summary
Water can keep you alive ...
A man in a wheelchair goes missing in rough country of Wyoming's Big Horn Basin. Reporter Elizabeth Danniher and KWMT-TV colleague Mike Paycik immediately join the search organized by local rancher Tom Burrell. But soon they're on a search of a different kind to help out a friend – a search for the truth.
They have to sort out suicide, accident, or murder.
It takes them deep into the intricacies of the community served by the Red Sail Ditch – the irrigation system that could make a ranch viable or worthless. They find rivalries, cooperation, antagonisms, inter-dependencies, and motives for murder.
... Or get you killed.
Don't miss any of Elizabeth's Caught Dead in Wyoming adventures:
Sign Off
Left Hanging
Shoot First
Last Ditch
Look Live
Back Story
Cold Open
Hot Roll
Reaction Shot
Body Brace
Cross Talk
Air Ready
Cue Up
What readers are saying about LAST DITCH:
"Full of mystery, human interest, a teasing romance and a lot of great characters from the series, and some new ones!"
"Although I've read and enjoyed all of the Caught Dead in Wyoming books, this may be my favorite."-5*
"Un. Put. Down. Able. Great plot with fully realized characters you wish were part of your family."-5*
"McLinn . . . injects humor at just the right times, keeping it always interesting and light, and with always a surprising ending!"-5*
"Since I was born and raised in Wyoming, I was naturally drawn to this series. Not only did I discover some great intrigue . . . but a great author to boot (yes, a Wyoming term)!" -5*
"Weaves a wonderful tapestry of modern life in the west."-5*
"This is my fourth book of the series in 4 days!!! Fast moving, smart, funny, keeps you on your toes!"-5*
"All kinds of twists on so many levels."-5*
"Patricia McLinn has me hooked! I love the way she writes, suspense, humor, intelligent characters . . . I'm ready for book 5."-5*
What readers say about Caught Dead in Wyoming:
"These books have it all, mystery, love, friendship and humor."-5*
"E.M.'s internal monologues are sharp, snappy and often hilarious."-5*
"McLinn has created in E.M. a female protagonist who is flawed but likable, never silly or cartoonish, and definitely not made of cardboard."-5*
"Seriously good humor." -5*
"READ THE WHOLE SERIES!!! YOU WON'T BE DISAPPOINTED! This entire series is excellent!!! I rarely write reviews, but I felt that I had to with this group. The plots are done so well that they will keep you guessing "who done it" until the end. Please tell me there will be more in this series!"-5*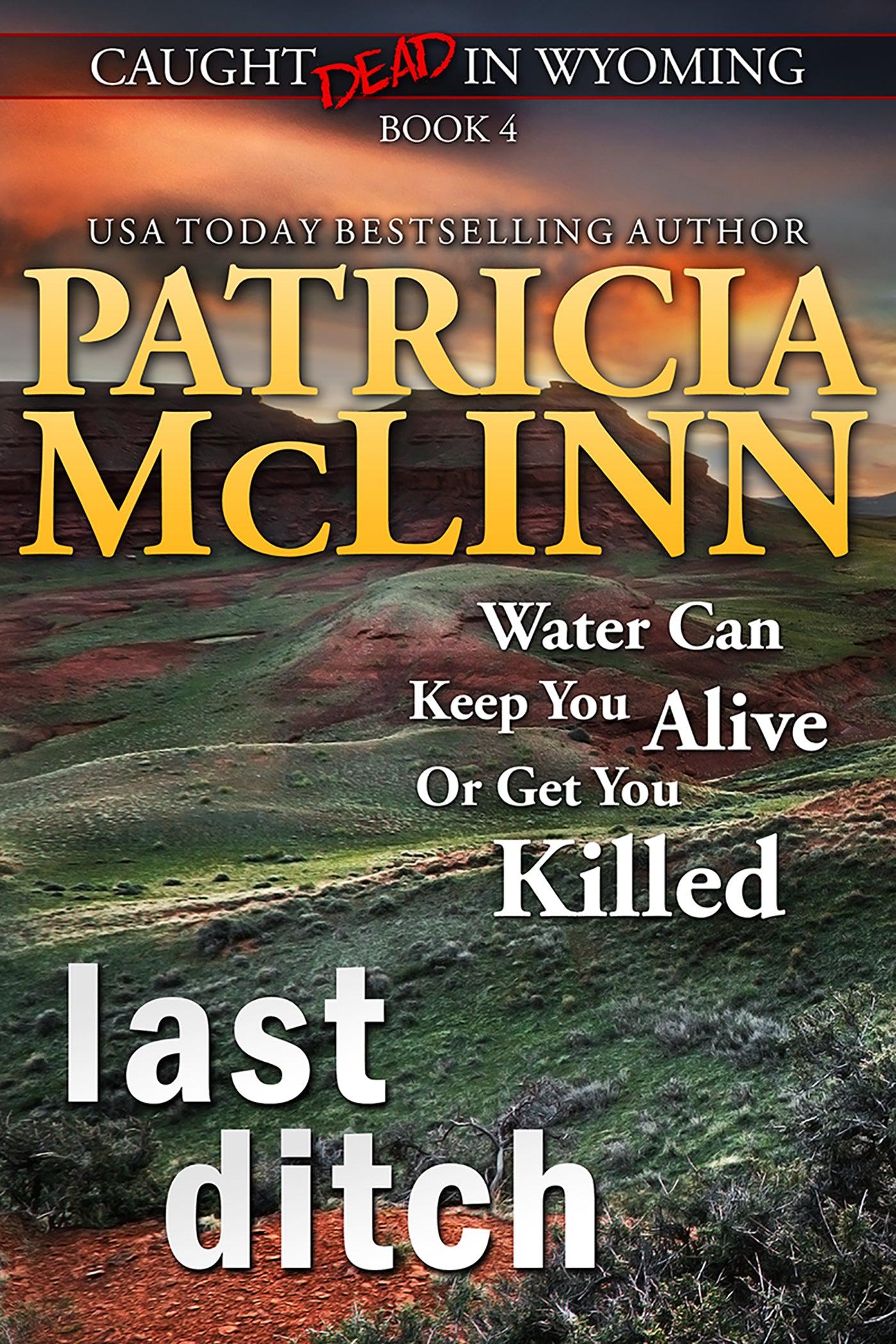 I find my self reading faster or meaner or with an attitude, depending on which part I'm reading. This tells me that I am really into the story. This is the best evidence I can give that a book is good. There are so many story lines within one book. I do have to make a list of characters to keep up; but, these are worth it. The montage of characters also gives you a lot of chances to develop your own images of the characters. Trust me Tom and Mike look really good in my imagination. Aunt Gee and Mrs. Parens make an interesting picture, too.
Growth
Excellent story! The mysteries keep getting better and better! I love the way Mikes aunt and Mrs. Paren and Penny keep feeding information to Elizabeth and Mike. Tom has his spot in the group along with Diana and Jennifer. Such a cohesive group. The relationship between Elizabeth, Mike and Tom is developing nicely. I highly recommend this series of mystery books as they are well written and developed!
Last Ditch
This is an amazing series....book four was as engaging as book one. The plot was not unique, but so well crafted that I was riveted....
I am so loving this series. I am ready to start Book 5. I love her main character, Elizabeth (E.M. Danniher) and all the surrounding characters as well. Makes you want to start the next story immediately.
A great series continues
Usually by book 4 of a series, that something special found in the first books has been lost. I am so happy to say that is not the case here. Great plot, the characters are progressing (at a realistic pace!). Love it when a series can still rely on the plot to carry it through.