---
Read more in this series: Caught Dead in Wyoming
Regular price

$7.99 USD

Sale price

$5.99 USD

Unit price

per

Regular price

$6.99 USD

Sale price

$5.99 USD

Unit price

per

Regular price

$6.99 USD

Sale price

$5.99 USD

Unit price

per

Regular price

$6.99 USD

Sale price

$5.99 USD

Unit price

per

Regular price

$6.99 USD

Sale price

$5.99 USD

Unit price

per

Regular price

$6.99 USD

Sale price

$5.99 USD

Unit price

per

Regular price

$3.99 USD

Sale price

$3.49 USD

Unit price

per

Regular price

$6.99 USD

Sale price

$5.99 USD

Unit price

per
---
Summary
A rodeo producer, dead in the bull pen. Accident or murder?
From the tip of the rodeo queen's tiara, to "agricultural byproducts" ground into the arena dust, TV reporter Elizabeth "E.M." Danniher receives a murderous introduction to the world of rodeo. Elizabeth, until recently a top-flight national TV journalist, is regaining her footing after a dizzying demotion to tiny —and entirely foreign to her — Sherman, Wyoming. She's having enough trouble trying to win over the wary stray dog she's dubbed Shadow. Now, her equilibrium faces a major challenge.
The apparently accidental death — under the hooves of bucking bulls — of a rodeo producer preparing for Sherman's annual Fourth of July Rodeo catches the attention of Elizabeth and her KWMT-TV colleague Michael Paycik. Not only is it a major story about the region's biggest event, but it's being outrageously mishandled by the station's egocentric anchor.
As Elizabeth and Mike dig – despite a somewhat rocky partnership to fight crime — area rancher Tom Burrell joins the investigation, providing background on suspects. And there are plenty of suspects because researching the victim's history unearths surprising enemies. But Tom has divided loyalties, so Elizabeth doubts his commitment to finding the truth.
Not to mention that both Mike and Tom show an interest in her ... and the points of this peculiar triangle are starting to get under her skin.
What readers are saying about LEFT HANGING
"I started laughing on the first page and continued laughing until the end."-5*
"Compelling, snarky murder mystery . . . a must read, must buy author."-5*
"I seldom give five star ratings, but this series is an example of what it takes to earn one. A great mystery with well drawn characters who walk off the page into your mind and heart, and set in a masterly evoked small town news operation. And then there is the the setting in an obviously well loved Wyoming that is not only a landscape, but a culture."-5*
"Loving the world of Cottonwood County, Wyoming!"-5*
"Even if you are not from the West, a rodeo fan, or care about either, you must read this series!! . . .  This is such a gripping, informative, and, at times, laugh-out-loud clever series, just read it!!"-5* 
" iddyup cowboys......this book wins the gold belt buckle."-5*
"The dialogue was so well written that I could easily imagine the innuendo, tone of voice and facial expression of each character."-5*

"Caught and hooked. I am now completely hooked on Patricia McLinn's "Caught Dead In Wyoming" series. . . . Good mysteries that keep you guessing but let you follow the main character's puzzling out the solution. I think Ms. McLinn's books belong on the mainstream bestseller lists on a par with Elizabeth George and P.D. James but more accessible. Now if you'll excuse me I have to get the third in the series and gobble that one up!"-5*
Don't miss any of the Caught Dead in Wyoming adventures:
Sign Off
Left Hanging
Shoot First
Last Ditch
Look Live
Back Story
Cold Open
Hot Roll
Reaction Shot
Body Brace
Cross Talk
Air Ready
Cue Up
What readers are saying about the CAUGHT DEAD IN WYOMING series
"McLinn's mysteries set in Wyoming are addictive. The writing is excellent, the twists and turns keep the brain engaged, and Elizabeth's wry commentary keeps a smile on my face." -5*
"E.M.'s internal monologues are sharp, snappy and often hilarious."-5*
"I am so glad to have found a mystery series that holds my interest with characters that have real life quirks and flaws. . . .  If you like a fun, fast moving mystery with a lot of behind the scenes journalism woven with a little romance, give this series a try."-5*
"Hoping this series lasts forever!"-5*
"McLinn has created in E.M. a female protagonist who is flawed but likable, never silly or cartoonish, and definitely not made of cardboard." -5*
"While the mystery itself is twisty-turny and thoroughly engaging, it's the smart and witty writing that I loved the best." – Diane Chamberlain, bestselling author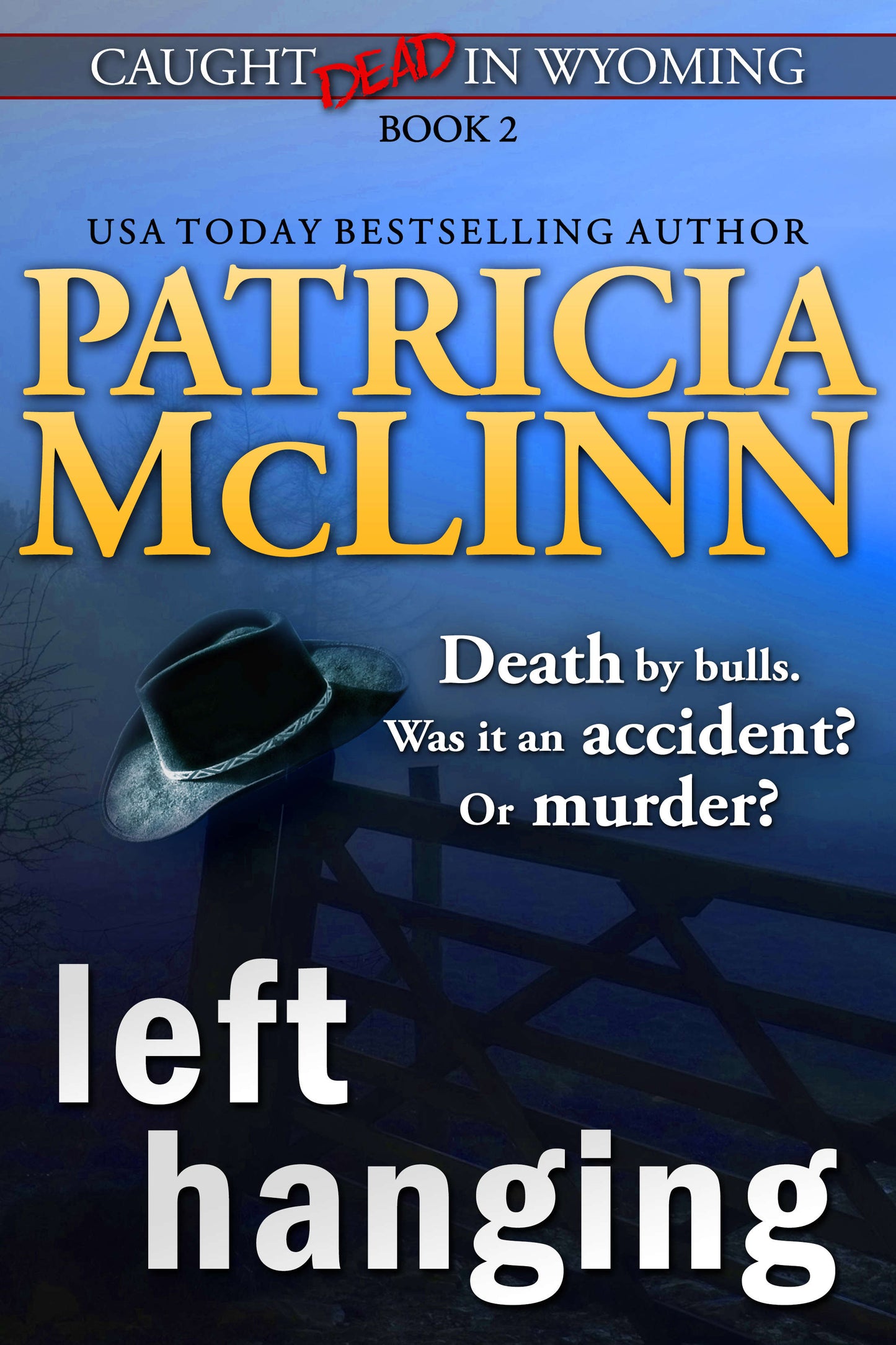 Wonderfully challenging series
I am really enjoying this series and the stories that the author has written so far. I have only read two of them, but they have both been very enjoyable
Patricia's story telling is the best I have read in a long time! Lots of twists & turns, humor that is great, & fun to be part of the action as you read! Can't wait for the next one!
Appearances Are Deceiving
Excellent well written mystery! Elizabeth, Mike, Tom, Diana, Mrs. Parens and more make up some of the characters in this well written mystery! Lots of clues but the author will keep you interested right up to the last few chapters where there is a twist and all comes to light. Shadow is getting better and plays an important part. There is the humor , it livens up the story and if I tell you too much it will ruin it for you. Remember things are not as they always seem and a stolen house and missing gold makes for an interesting mystery.
"Left Hanging" is good storytelling, with interesting characters.
Patricia McLinn writes an intriguing mystery rich with details. The second book in the Caught Dead in Wyoming Series was as enjoyable as the first. Enjoyed the cowboy/rodeo theme mystery, and revisiting the cast of characters in her new town. On gthe 3rd one now!