---
Read more in this series: Caught Dead in Wyoming
Regular price

$5.99 USD

Sale price

$4.99 USD

Unit price

per

Regular price

$7.99 USD

Sale price

$5.99 USD

Unit price

per

Regular price

$6.99 USD

Sale price

$5.99 USD

Unit price

per

Regular price

$6.99 USD

Sale price

$5.99 USD

Unit price

per

Regular price

$6.99 USD

Sale price

$5.99 USD

Unit price

per

Regular price

$6.99 USD

Sale price

$5.99 USD

Unit price

per

Regular price

$6.99 USD

Sale price

$5.99 USD

Unit price

per

Regular price

$3.99 USD

Sale price

$3.49 USD

Unit price

per

Regular price

$6.99 USD

Sale price

$5.99 USD

Unit price

per
---
Summary
Divorce a husband, disrupt a career ... grapple with a murder.
TV journalist Elizabeth "E.M." Danniher will tell you she committed two sins — she didn't stay young, and she made an enemy of a powerful news executive — her ex. She used to break national news. Now her top story as the "Helping Out!" reporter at dinky KWMT-TV in Sherman, Wyoming is getting a defective toaster repaired.
Soon she's in a battle of wills with ex-football player turned journalist Mike Paycik. Does he see her as a handy rung on his career ladder, a potential partner in fighting crime, or something more? And there's the matter of a deputy sheriff – missing or murdered? Elizabeth finds herself investigating at the insistence of a little girl doesn't so much ask for help as demand Elizabeth proves her father's innocence. Not that enigmatic rancher Thomas Burrell makes investigating easy.
She, Mike, and more colleagues heat up this cold case fast, learning Cottonwood County's secrets.
Tough, funny, and determined, Elizabeth wrestles with isolation, keeping a professional edge, an evolving self-image . . . oh,, yes, and a rental unaffectionately known as the Hovel and a standoffish stray dog. Is Wyoming — the land of cattle, cowboys, tumbleweeds, and fewer than six people per square mile — her new home or a road to permanent obscurity?
Elizabeth won't fade to black without a fight, no matter how final some might want to make her Sign Off.
What readers are saying about SIGN OFF:
"This is one of those books that you want to stop everything to read while hoping it never ends."-5*
"Sign Off is a brisk, enthralling page-turner" – P.B. Ryan, bestselling author
"Colorful characters, intriguing, intelligent mystery, plus the state of Wyoming leaping off every page." – Emilie Richards, USA Today bestselling author
"Be prepared for lots of twist and turns."-5*
"I read it in one sitting. I hadn't planned it that way, but just couldn't stop."-5*
"The characters were a mix of funny, sad, and quirky and were totally believable. There was just enough humor to lighten the story, but not to disrespect the seriousness of crime."-5*
"What an entertaining story, great characters and a fun, sometimes funny mystery! On to the next in the series, lots of fun!"-5*

Don't miss any of the Caught Dead in Wyoming adventures:
Sign Off
Left Off
Shoot First
Last Ditch
Look Live
Back Story
Cold Open
Hot Roll
Reaction Shot
Body Brace
Cross Talk
Air Ready
Cue Up
What readers say about the Caught Dead in Wyoming series:
"McLinn's mysteries set in Wyoming are addictive. The writing is excellent, the twists and turns keep the brain engaged, and Elizabeth's wry commentary keeps a smile on my face." -5*
"E.M.'s internal monologues are sharp, snappy and often hilarious."-5*
"If you haven't started reading this series and you enjoy reading funny, sassy, interesting, characterful books, then start at book one and continue through. You won't be sorry."-5*
"Hoping this series lasts forever!"-5*
"McLinn has created in E.M. a female protagonist who is flawed but likable, never silly or cartoonish, and definitely not made of cardboard."-5*
"While the mystery itself is twisty-turny and thoroughly engaging, it's the smart and witty writing that I loved the best." – Diane Chamberlain, bestselling author
"I would recommend anyone who loves a good mystery to start reading now. You must begin with book one to understand relationships and personalities of the main characters. Start reading now.:-5*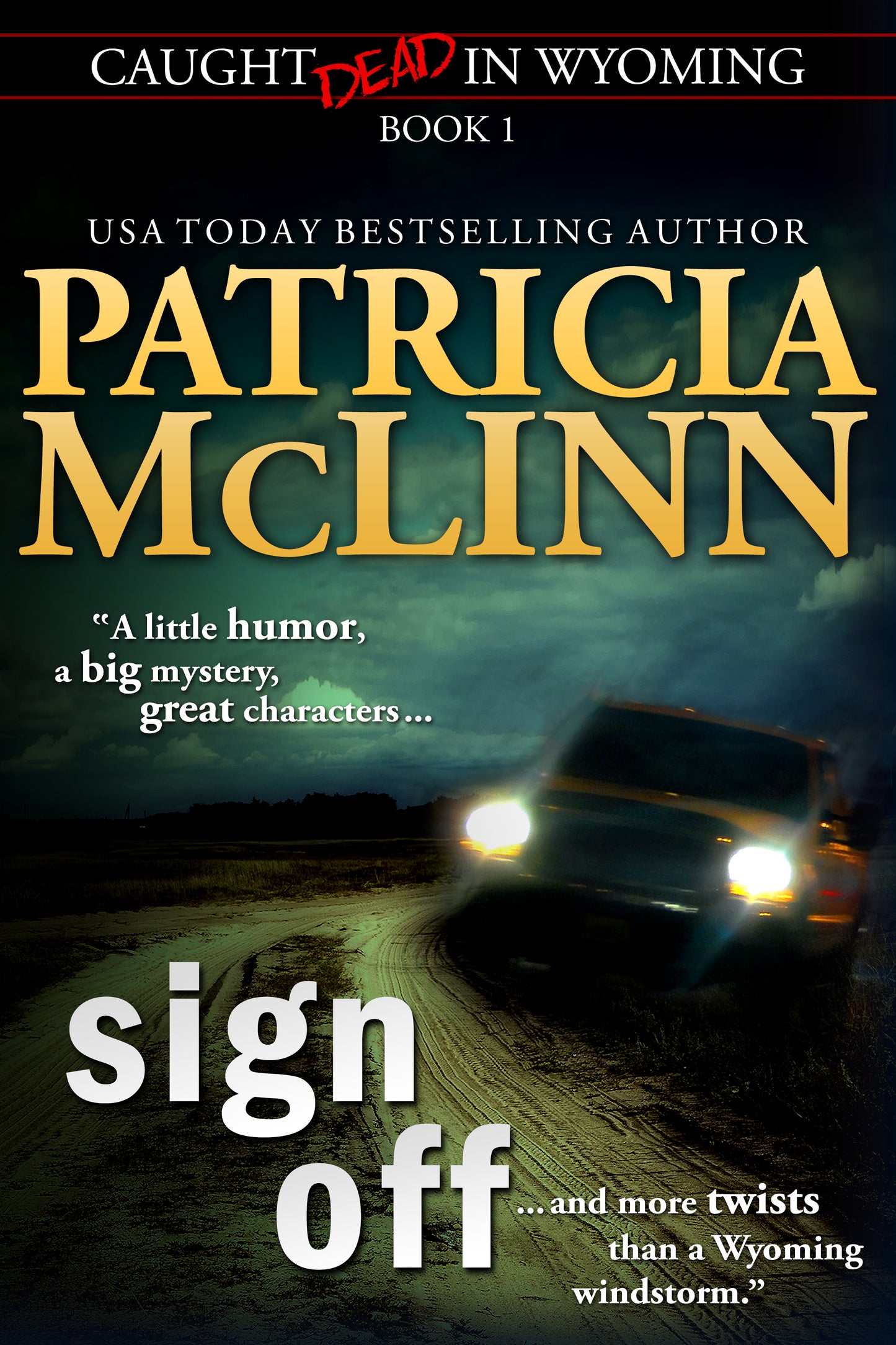 Added a new author to my favorites!
Really very enjoyable
The writing style suits me very well! It was the most enjoyable part of reading this story. Solid characters, not too easily figured out and many surprises but the style of the author, to me, was the most enjoyable part. Great read
Twisty in all the right ways
Really enjoyed reading! Twists and turns kept me glued to my screen. Already bought the next in the series!
I couldnt put it down ! It really kept me guessing
I really enjoyed this book. My first by this author, and it will not be the last! If you think you know whodunnit then you will probably be as surprised as I was at the conclusion of this book. It was nice, for a change, to read a novel like this one and not already have the end all figured out when there are at least 3 chapters left. Very well done!!
Great read!
From the first page, I had instant appreciation for her writing style. The story was interesting and there were great details and descriptions to paint the characters. I cant wait to read more of her books!