---
Read more in this series: Caught Dead in Wyoming
Regular price

$5.99 USD

Sale price

$4.99 USD

Unit price

per

Regular price

$7.99 USD

Sale price

$5.99 USD

Unit price

per

Regular price

$6.99 USD

Sale price

$5.99 USD

Unit price

per

Regular price

$6.99 USD

Sale price

$5.99 USD

Unit price

per

Regular price

$6.99 USD

Sale price

$5.99 USD

Unit price

per

Regular price

$6.99 USD

Sale price

$5.99 USD

Unit price

per

Regular price

$6.99 USD

Sale price

$5.99 USD

Unit price

per

Regular price

$3.99 USD

Sale price

$3.49 USD

Unit price

per

Regular price

$6.99 USD

Sale price

$5.99 USD

Unit price

per
---
Summary
"There's a body in my bed. A dead body."
The call from a longtime friend staying at Sherman's newest — okay, only — B&B brings murder close to home for Elizabeth Danniher and starts her on a twisting, turning journey where appearances not only deceive, they turn deadly.
When her TV reporter friend Wardell Yardley comes to visit, they take a weekend trip to Yellowstone Park and encounter a surprising set of people. Including a team-building group from social media mega-force VisageTome, a mysterious older couple, and someone from Elizabeth's childhood.
Elizabeth senses undercurrents in this strange assortment that just about pull her and her friends underwater for good when everyone shows up in her tiny Sherman, Wyoming, town. And then Wardell's phone call pulls Elizabeth into that first-on-the-scene situation that makes the Cottonwood County Sheriff's Department decidedly cranky.
Not only is there a murder to solve — and fast — there's also a new sheriff in town, whose No. 1 rule might be No Sleuthing By Journalists.
"Look live" is a TV news term. A reporter appears to be live at a scene, perhaps for an introduction or the toss back to the anchor desk, but in fact the entire report is taped. A misleading perception, carefully set up. Ah, the dangers of deceiving appearances ...
Elizabeth, her KWMT-TV colleague Mike Paycik, rancher Tom Burrell, their other idiosyncratic partners in crime-solving – and even her dog Shadow — must dig deep to discover what happens when it's not enough to merely ... LOOK LIVE.
What readers say about LOOK LIVE:
"Another engaging murder mystery by McLinn. She injects humor at just the right times, keeping it always interesting and light, and always a surprising ending!"-5*
"There's a real love for wide-open spaces in McLinn's writing, and it's a pleasure to visit the world she so beautifully creates. Can't wait for the next book(s)!"-5*
"Wonderfully convoluted murder mystery!"-5*
"Enough twists and turns to keep me awake and reading far into the night."-5*
"Better than ever, this definitely had some really cool twists and turn, the kind that'll keep you impatiently waiting for the next."-5*
"Keeps you on your toes."-5*
"Such witty, artful writing is to be treasured. … Characters you wish were your neighbors and original plots for each of the books has me reaching for the next in line." -5*
Don't miss any of Caught Dead in Wyoming:
Sign Off
Left Hanging
Shoot First
Last Ditch
Look Live
Back Story
Cold Open
Hot Roll
Reaction Shot
Body Brace
Cross Talk
Air Ready
Cue Up
What readers say about the Caught Dead in Wyoming series:
"The twists and turns keep the brain engaged, and Elizabeth's wry commentary keeps a smile on my face."-5*
"Can't wait! When is the next one coming?"-5*
"This cozy mystery series has characters I love, a setting I look back on with nostalgia, humor that always makes me smile & sometimes makes me laugh out loud, and enough plot twists to keep me guessing. Can't wait to read more!"-5*
"There's a real love for the 'wide open spaces' in McLinn's writing and it's a pleasure to visit the world she so beautifully creates in her stories. Can't wait for the next book(s)!"-5*
"The whole series is awesome!!!"-5*
"I took an extended break, after devouring books 1 thru 4, because I didn't want to not have more to look forward to and now what will I do?"-5*
"Caught Dead series is my new favorite go-to read."-5*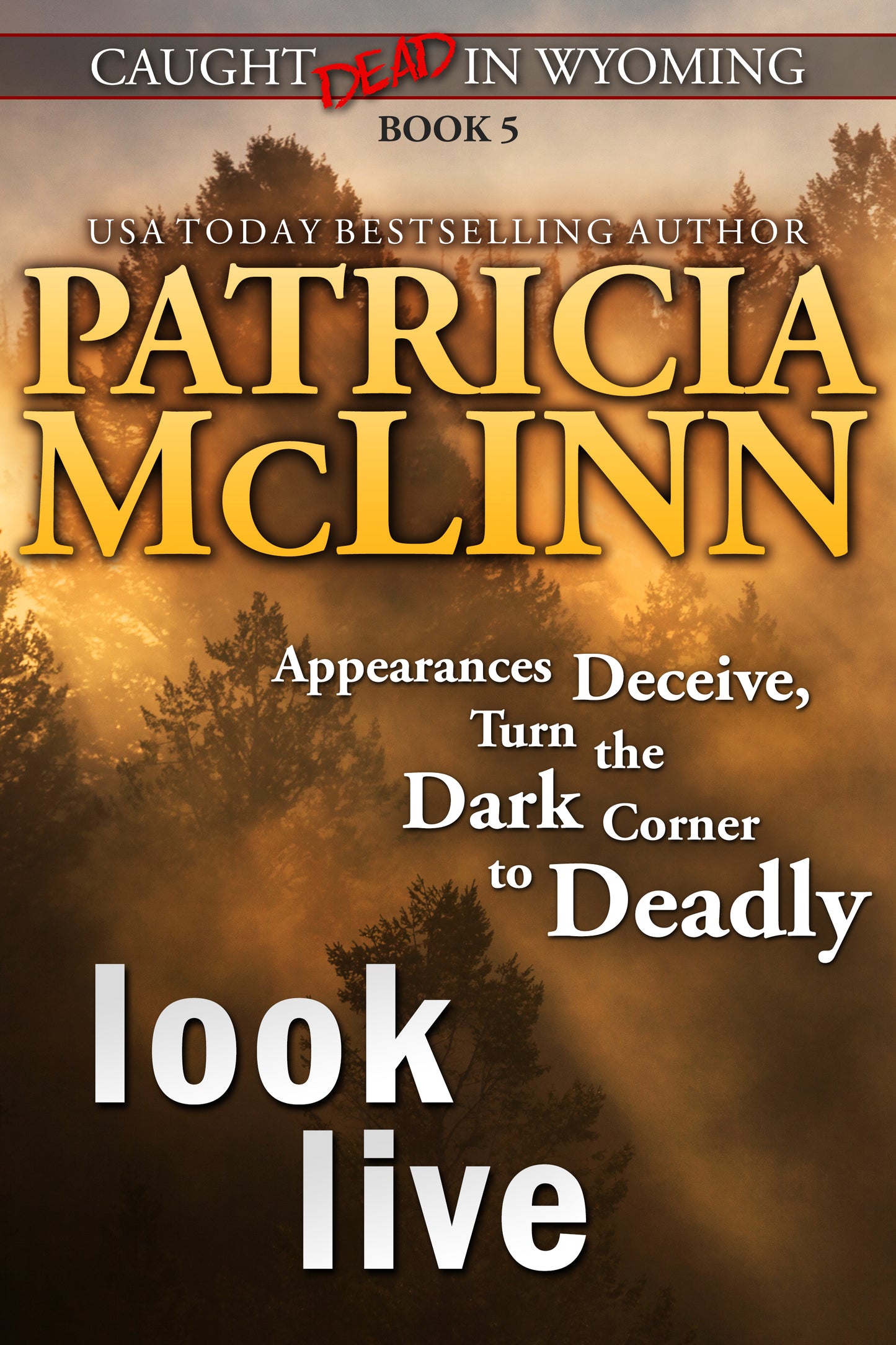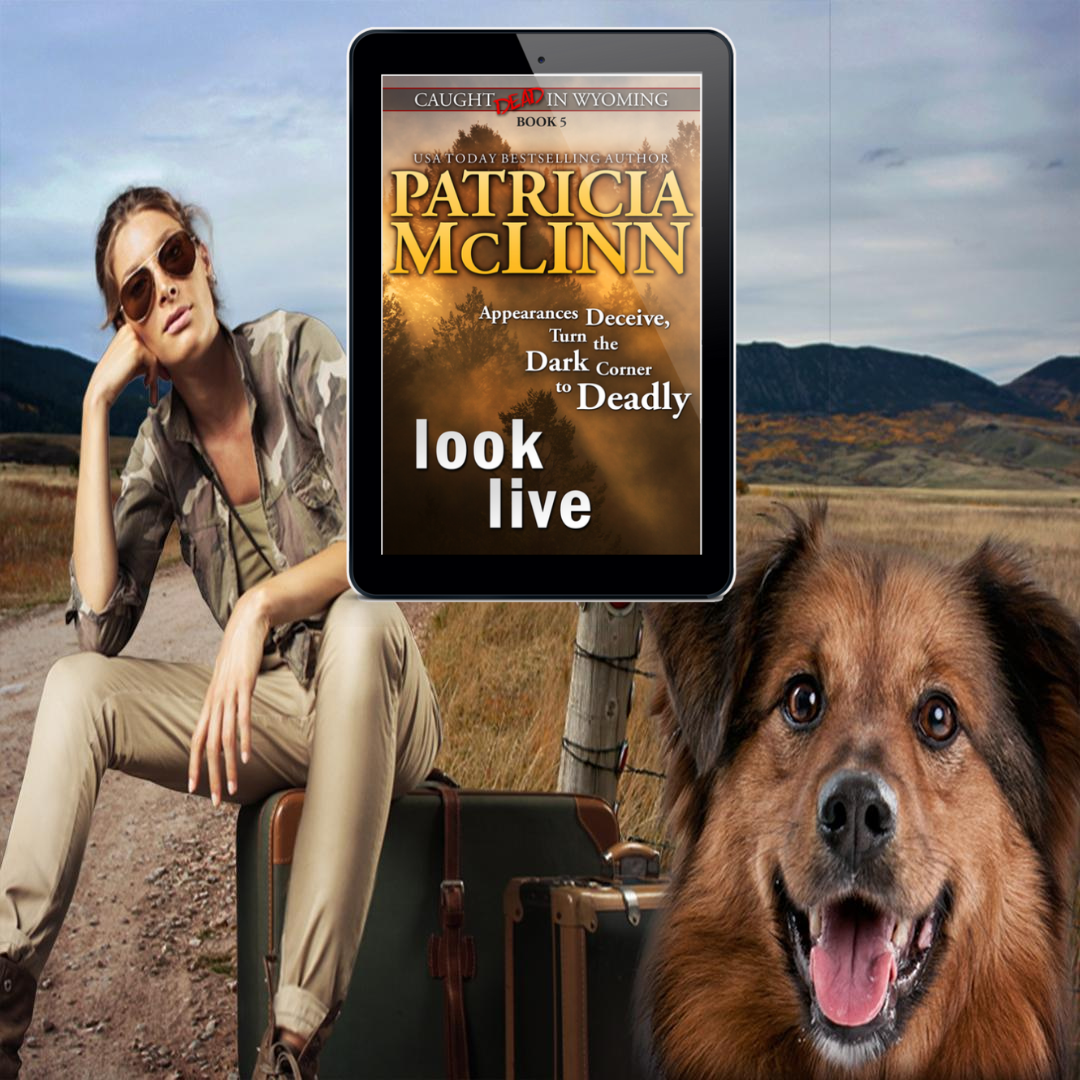 Really good storytelling
The series keeps you coming back for more lighthearted storytelling involving likeable and loveable characters. Theyre a nice reprieve from todays volatile world, bringing back wholesomeness, and new friendships forming, through life changes...and happy endings are always welcome.
Look live
I love this series. I am learning so much about a part of the U.S. I had no real knowledge of...all the while following the twists and turns the murder mysteries take. The characters are interesting and entertaining. The author keeps you guessing right to the end!
I loved reading this book because you kept the suspense going to the end. I have read all the previous books in the series and loved everyone of them. You are really fantastic with mysteries can't wait to read the next book. I have also 1-7 books of this series. Thanks!!!
Really Enjoy These Characters
Started with book one. Now on my way to 5 ...totally enjoyable..great fun read.
Twists
Patricia McLinn writes an excellent mystery! We have all the characters, Elizabeth, Mike, Tom, Jennifer, Diana, and a new sheriff plus attorney Abbott. Let's start with a friend of Elizabeth's coming for a visit. Off Elizabeth, Mike and her friend, Dell go to Yellowstone Park. Let the fun begin! We have hits of a mystery going on , plot twists but not much really happens until the vacation is over and they back home. Death occurs and more things happen, oh the plot twists. Add in a time constraint and even more happens. Read this excellent mystery which I highly recommend!