---
Read more in this series: Caught Dead in Wyoming
Regular price

$5.99 USD

Sale price

$4.99 USD

Unit price

per

Regular price

$6.99 USD

Sale price

$5.99 USD

Unit price

per

Regular price

$6.99 USD

Sale price

$5.99 USD

Unit price

per

Regular price

$6.99 USD

Sale price

$5.99 USD

Unit price

per

Regular price

$6.99 USD

Sale price

$5.99 USD

Unit price

per

Regular price

$6.99 USD

Sale price

$5.99 USD

Unit price

per

Regular price

$3.99 USD

Sale price

$3.49 USD

Unit price

per

Regular price

$6.99 USD

Sale price

$5.99 USD

Unit price

per
---
Summary
A killing to keep old Wyoming secrets and treasures
Death hits close to home for Elizabeth "E.M." Danniher – or, rather, close to the Hovel, as she's dubbed her decrepit rental house. Her elderly neighbor kills a man apparently robbing her of Western artifacts.
As a former top-flight national TV reporter, Elizabeth knows self-defense might satisfy the legal system, yet leave her neighbor in danger. Doing what she does best – asking questions – Elizabeth sidesteps her boss and a nosy, jealous anchorman to inquire into an eccentric and mysterious western billionaire, an ambitious curator, rival collectors, family feuds and Cottonwood County's Wild West crimes of a century ago.
Digging deeper into these western murder mysteries, Elizabeth relies on her team of friends who are proving their investigative chops. Before this is over, Elizabeth will need every one of them – and the stray dog she's adopted – as her questions push someone to decide, that no matter who shot first, Elizabeth should die now.
What readers are saying about SHOOT FIRST:
"One of my favorite things in these books is the evolution of the relationship between Elizabeth and the dog. One of the things I liked about this book, particularly, was that it was a bit convoluted. There were a lot of characters who appeared to be the bad guy." -5*
"A witty, character-driven story that made me laugh throughout. . . . I give this book 5 BIG stars and highly recommend it. I can hardly wait for the 4th book in this series."-5*
"E.M. is a character I'd like to meet - multi-talented, likeable, honest, possessing a sense of humor and flawed but not weak. The story was fairly complex with all sorts of twists and turns and misdirection and subterfuge. Just when you think you know who-dun-it you get a surprise and a chance to try again to get it right. I heartily recommend all her books." -5*
"Patricia McLinn is one of my new favorite writers. Clean prose, great characters, and maze-like mysteries. Recommended to fans of same." -5*
"MORE. MORE. MORE. OMG..... I hope there will be more books for this series. After reading all three this one was probably the best but all her books and I mean all her books were great reads. You really start to love the characters and don't want it to end."-5*
"Best one yet."-5*
"Clever, fun characters set in Old West with quick, intelligent wit and plot."-5*
"With each book I've read in this series I've appreciated Ms. McLinn's storytelling abilities more & more. From Shadow to Deputy Shelton & all the great characters in between, each is written with understanding of human nature & heart. I'm hooked & ready for my next Wyoming adventure!"-5*
"This is the third of this series I have read… within one week! Fascinating, intriguing, and the twist that one wants in a good mystery. I'm a new fan, but I think I'll be a long term one."-5*
"Now off to read the fourth book in the series . . . I finished this book in three days' time (and I work full-time!), so maybe I should also buy book five now since it's Friday and I plan on reading and relaxing this weekend. Elizabeth and her friends are definitely entertaining and I'm curious to see what happens next!" -5*
Don't miss Elizabeth's adventures in western crime-solving with a dash of humor:
Sign Off
Left Hanging
Shoot First
Last Ditch
Look Live
Back Story
Cold Open
Hot Roll
Reaction Shot
Body Brace
Cross Talk
Air Ready
Cue Up
What readers say about the Caught Dead in Wyoming series:
"McLinn has created in E.M. a female protagonist who is flawed but likable, never silly or cartoonish, and definitely not made of cardboard." -5*
"I love the whole series 'Caught Dead in Wyoming.' The writing is witty and sharp; the story is gripping; and the characters are so realistic. . . What I didn't expect was a renewed appreciation given by this 'inside' view of the world of journalism. . . . E.M. Danniher changes her community and certain individuals – for the better – due to her dogged pursuit of truth and justice." -5*
"A fun and edge-of-your-seat thriller in every book." -5*
"The adventures keep getting better and better. Reading this series is involving from the get go."-5*
"I confess to being addicted to this series and characters. I LIKE them. I wish they were real." -5*
"E.M.'s internal monologues are sharp, snappy and often hilarious."-5*
"A terrific series with a western flair. . . . Great characters that you would want as your friends. Smart, funny, but not perfect."-5*
"Long may there be more tales from Wyoming."-5*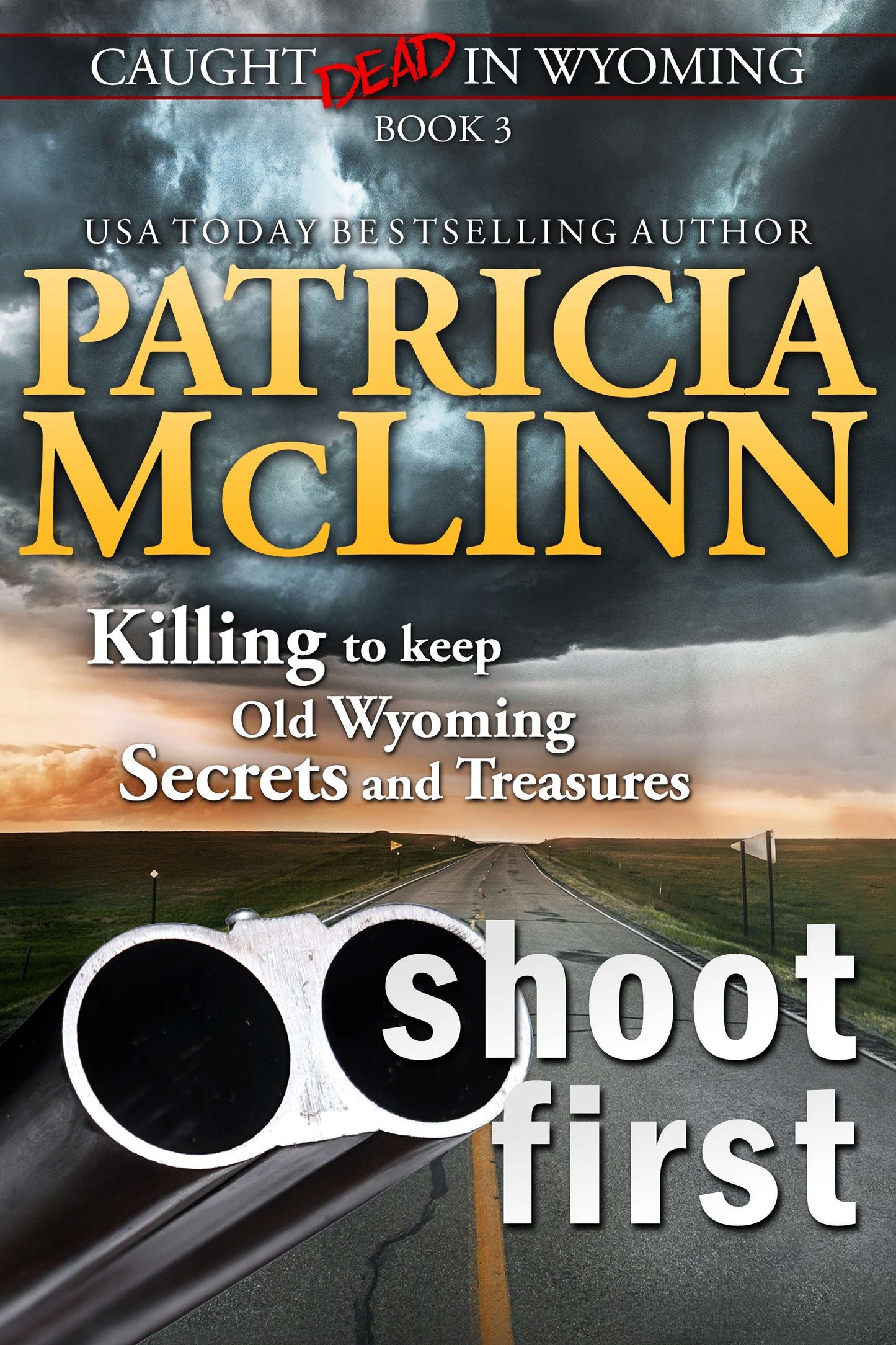 A veteran reader of murder mysteries and difficult to satisfy - I was sooo engulfed in all aspects. Like a delicious meal in a great setting with the best people, this book delivers.
Mystery with humour and interesting characters!
I just love this series by Patricia McLinn, entertaining yet keeps you guessing until the end. The main character is flawed like all of us so we can easily relate to her. I am already reading the next book in the series, hope the author will continue this great series.
Must read series!
Once again Patricia McLinn has come up with the goods. This is the third book in her Caught Dead in Wyoming series which features TV reporter EM Danniher using her keen investigative journalist's skills to try and keep her elderly neighbour, Mildred, safe after Mildred shoots an intruder in her home If you like a good whodunit then you will love this. Please keep them coming Patricia McLinn !
This is the third one I've read in a row...the series is really good. And now I want to go on to #4...binge reading! The characters continue to develop and she'll give you a little refresher to the background story, but does not regurgitate like I've read in other series. Highly recommend!
Great fun, great characters