---
Read more in this series: Caught Dead in Wyoming
Regular price

$5.99 USD

Sale price

$4.99 USD

Unit price

per

Regular price

$7.99 USD

Sale price

$5.99 USD

Unit price

per

Regular price

$6.99 USD

Sale price

$5.99 USD

Unit price

per

Regular price

$6.99 USD

Sale price

$5.99 USD

Unit price

per

Regular price

$6.99 USD

Sale price

$5.99 USD

Unit price

per

Regular price

$6.99 USD

Sale price

$5.99 USD

Unit price

per

Regular price

$6.99 USD

Sale price

$5.99 USD

Unit price

per

Regular price

$3.99 USD

Sale price

$3.49 USD

Unit price

per

Regular price

$6.99 USD

Sale price

$5.99 USD

Unit price

per
---
Summary
Open house to murder
Elizabeth Danniher finds house-hunting in Cottonwood County, Wyoming, difficult . . but deadly? That she never expected.
In television, a cold open rolls before the credits, pitching the viewer into the news story. That's how Elizabeth and her cohorts feel after she finds a body in a house for sale.
What do she, Mike, Diana, Tom, and the rest have to work with to fight the chill of murder? A victim with a hidden history, few suspects, and the sheriff's department not happy having Elizabeth as the first to find the body, making her the closest thing they have to a witness. 
And then there's Shadow's history . . .
Finding a body sure puts Elizabeth's problems in perspective . . . including a trip back east to wrest her belongings from storage and the clutches of her ex, a new home for her and Shadow, and the question of whether the cold will ever end...
What readers say about COLD OPEN:
"I read Patricia McLinn's latest mystery, Cold Open, in one sitting. Made me laugh; made me cry; made me wish it were twice as long."-5*
"I love the series! Every book adds texture to the characters and the plots are imaginative and entertaining. Patricia McLinn keeps you hanging and intrigued until the end. Cold Open was all the above."-5*
"If you enjoy mysteries by Jerusha Jones, Susan M. Boyer, and Julie Smith, don't miss Cold Open. "-5*
"I have been waiting for this follow up book for what seems like forever. It was certainly worth the wait."-5*
"Fantastic page turner. —-And the ending—wow!"-5*
"Cold Open was a great story . . . You have many twists and turns in the storyline and you're always questioning whodunit? This book is a must read! I can't wait until the next book is out!"-5*
"We get to learn more about Elizabeth's past and how she is dealing with the now and the future. . . . Leads one on a tale of who done what. I had to finish this book in one sitting. It was that good."-5*
"Maybe the best yet in this series."-5*
"Just finished this book and downloaded book 8. This book was even better than the earlier books. The characters keep you hooked and wanting more. Love the story lines and situations this group gets into. Looking forward to starting the next, and also sad . . . I have read the first 7 straight through in about a week...now I know this is the last for a while."-5*
"I thoroughly enjoyed this book. It answered some questions about Elizabeth's past and her future. It was fast moving and the old characters did not disappoint as the new ones brought new interest and intrigue."-5*
"Waiting is murder. This is one of the best in the series and I loved the 6 books that proceeded this one. Now I have to wait for more . . ."-5*
"My favorite of the Caught Dead in Wyoming series."-5*
Don't miss any of Elizabeth Danniher's Caught Dead in Wyoming adventures:
Sign Off
Left Hanging
Shoot First
Last Ditch
Look Live
Back Story
Cold Open
Hot Roll
Reaction Shot
Body Brace
Cross Talk
Air Ready
Cue Up
What readers are saying about the Caught Dead in Wyoming series:
"Characters so real that you begin to see them as living, breathing human beings. Even the dog has a personality that is endearing. . . .To really appreciate these characters, starting with the first book in the series will give you better insight."-5*
"The books in this series just keep getting better and better. When I read other authors I can usually figure out the villains but not in these stories by McLinn. Thanks for making us think while we enjoy your hard work."-5* 
"Amateur sleuthing at its best."-5*
"McLinn serves up a good mystery alongside a story of a woman rebuilding herself and her life. Both plotlines are entertaining. I'm already impatiently waiting for the next book."-5* 
"From the first book the characters have become favorite friends to hang out with. I've never been to Wyoming but because of the descriptive writing, it's now on my list of places to travel to."-5*
"A series you can't put down. I'd like to have these folks in my town. They would make life so interesting!"-5*
"Elizabeth and her sleuthing buddies at KWMT-TV are the perfect read. I cry when I see 90% complete approaching 😥. Can't wait for the next book."-5*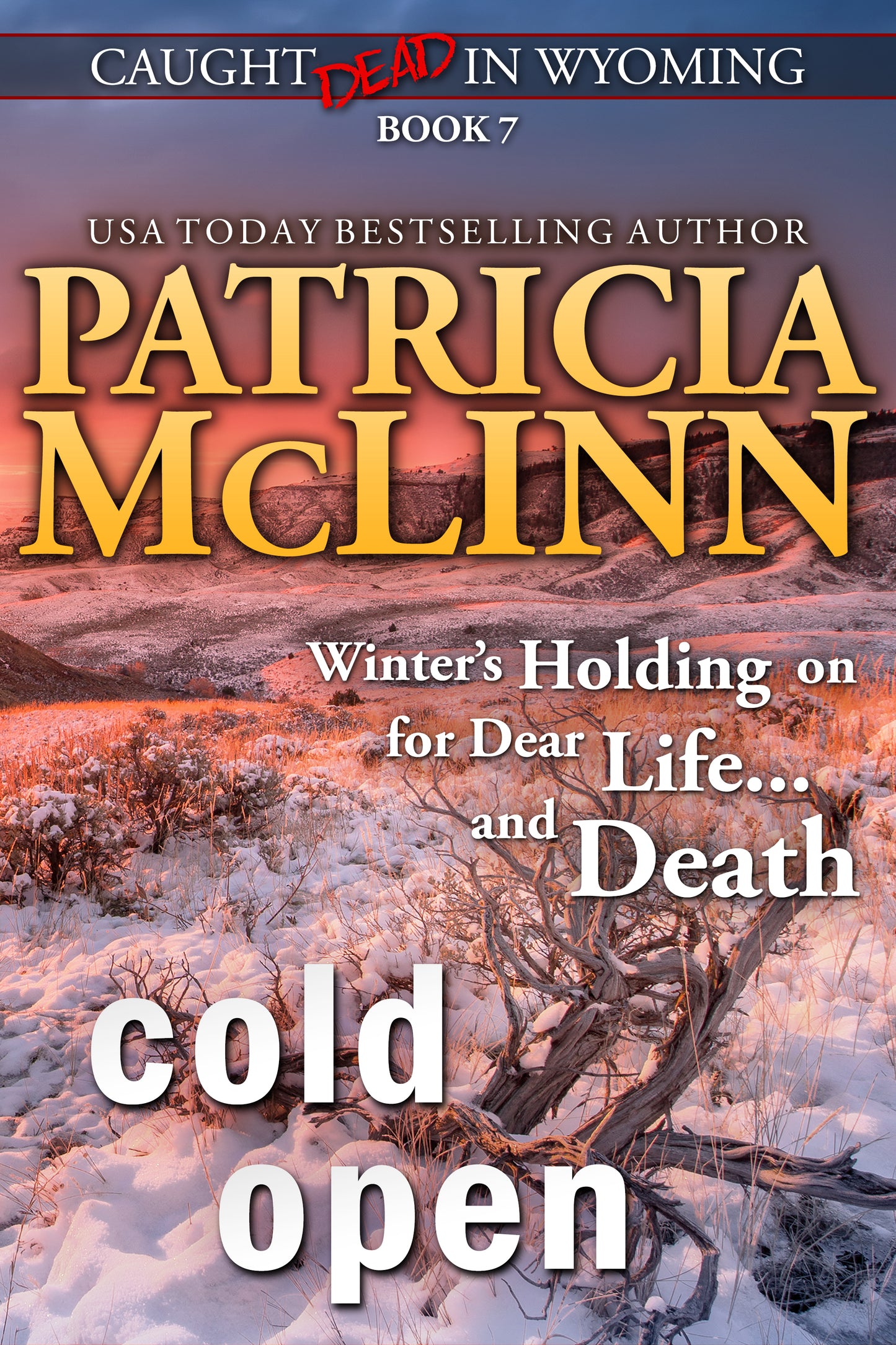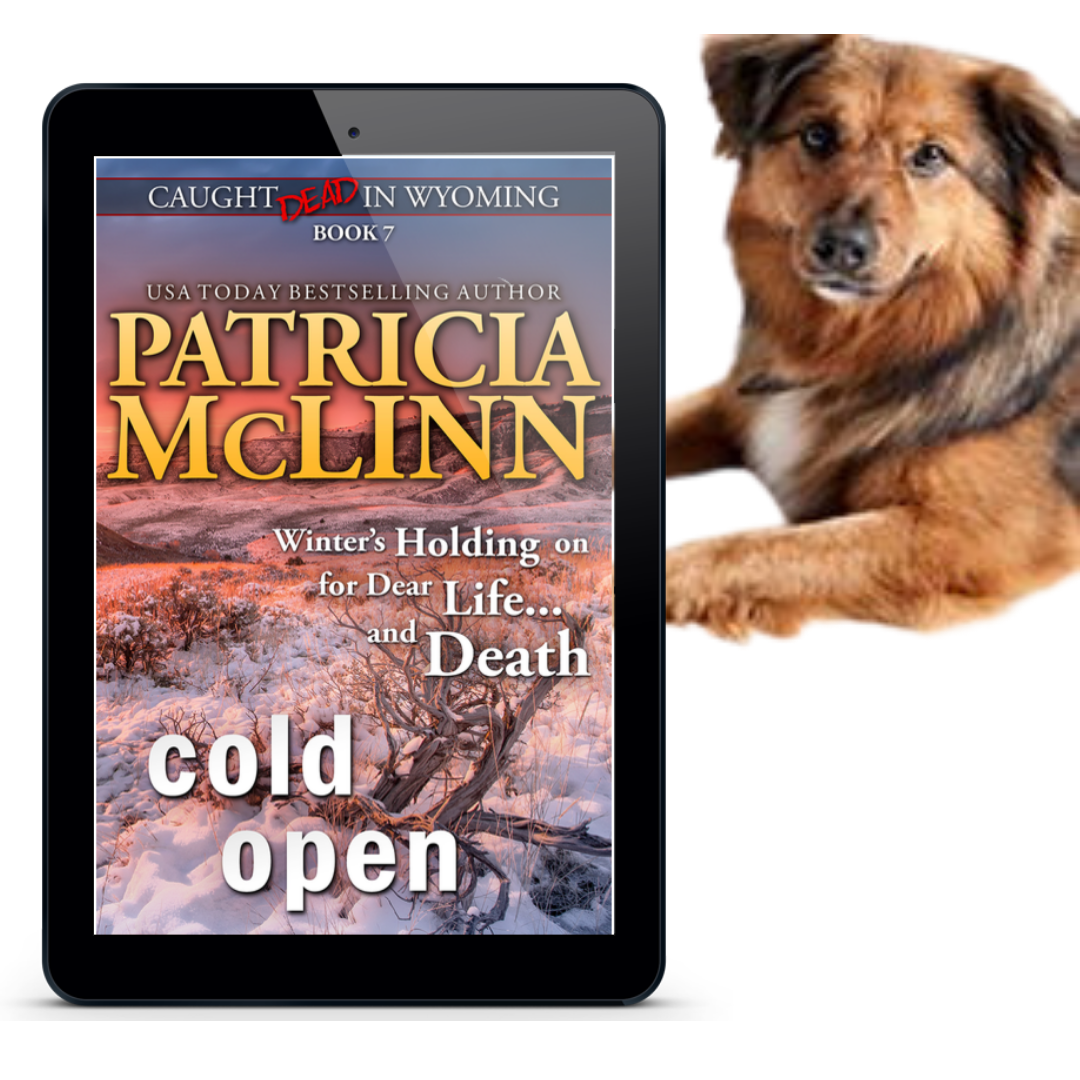 Great book
Patricia Mclinn never gets boring. Her books are full of twists and turns you dont see coming. Love her characters. Cant wait for the next book.
Cold Open
Excellent read in the series, cant wait for the next installment. The characters are brought to life and become endearing.
Tragedy leads to new beginnings for Elizabeth
I have read every book in this series and they keep getting better. Good to learn more about the end of Elizabeth's marriage to Wes. I like the little twist on Shadow. Can't wait for book 8. I wonder if Elizabeth will choose between Mike and Tom. Tamantha could sure use a Mom.
Tragedy leads to new beginnings for Elizabeth
An excellent story I will give 10 stars! Elizabeth and the gang solve a new mystery and some facts are revealed. Issues with her ex, Wes, are taken care of and lots more comes to light. Elizabeth gets her own house but it comes from a tragedy but it is a good resolution. Shadows past comes to light and a good ending! Awesome story with twists , bits of humor and lots of action. I look forward to the next book! An excellent series!
Cold Open
cold open ....was great...Im really enjoying this series...can hardly wait for the next one.