---
Read more in this series: Caught Dead in Wyoming
Regular price

$5.99 USD

Sale price

$4.99 USD

Unit price

per

Regular price

$7.99 USD

Sale price

$5.99 USD

Unit price

per

Regular price

$6.99 USD

Sale price

$5.99 USD

Unit price

per

Regular price

$6.99 USD

Sale price

$5.99 USD

Unit price

per

Regular price

$6.99 USD

Sale price

$5.99 USD

Unit price

per

Regular price

$6.99 USD

Sale price

$5.99 USD

Unit price

per

Regular price

$3.99 USD

Sale price

$3.49 USD

Unit price

per

Regular price

$6.99 USD

Sale price

$5.99 USD

Unit price

per
---
Summary
In the rough country of Wyoming, some cattle rustlers still get a death sentence.
Official consumer advocate and unofficial investigative reporter Elizabeth Margaret Danniher, her KWMT-TV colleague Mike Paycik, rancher Tom Burrell, and their supporting cast of idiosyncratic sleuths take on another mystery. A ranch foreman is found dead — and, for most in Cottonwood County, the reaction is ... good riddance. 
Long considered guilty of a heinous crime, the foreman was found not guilty at the time and no one else has been charged since then. He was represented by a slick attorney, now owner of Lukasik Ranch — once Mike's family land.
Suspects in the current death include hot-headed Hiram Poppinger, fellow grazing association ranchers — and Tom.
This time, both Tom and Elizabeth are ordered by Tom's daughter to find the truth. The investigation puts Elizabeth in close quarters with Mike and Tom — sometimes all three together — and she realizes this love triangle also warrants a soul-search.
But first, there's this current murder to solve and that means understanding the first one and all the people affected by it.
Reaction Shot, Book 9 of the Caught Dead in Wyoming series, is a smart, surprising, fast-paced cozy mystery with humor. If you like quirky characters, hints of romance and twists you won't see coming, then you'll love USA Today bestselling author Patricia McLinn's page-turner.
What readers are saying about REACTION SHOT
"Wyoming meets Thin Man. . . . Ms. McLinn knocks another out of the park. The snarky conversations, the characters, a trip to the grocery store. All is better in her books' world. The camaraderie and crime solving keep bringing me back. Looking forward to book 10."-5*
"I didn't initially like the ending . . . So I went back and read the story again and my hat is off to Patricia, great ending and beginning for Mike, Tom & Elizabeth. Life isn't black and white and Patricia takes our group into that grey area. Can't wait for the next book"-5*
"If I could, I would give this book 10 stars!"-5*
"Evil reaches out through years to taint the present and maybe the future. Tamantha gives Elizabeth another command to solve a murder to free her Daddy from suspicion. Elizabeth is brought to a realization of what is most important to her. Don't miss it!"-5*
"It must be magic! The characters, their individual histories, the place and its stories, and the newest murder . . . and suddenly, you aren't in your jammies reading a book, but out on the Wyoming prairie, smelling cattle and dust, right along with the indomitable Tamantha, and the rest of the gang, making sure the right murderer is caught!!! Each entry in this series gets better and better!!! Totally recommend this great book!!!!"-5*
"I can't get any work done when I'm reading Ms. McLinn's books! Not that I'm complaining. I love to think I can predict where her plots are going but she never fails to throw curveballs!."-5*
"Best one yet. . . I love the tension on nearly every page whether it was with "the ladies of O'Hara Hill" or among the investigators."-5*
"Best of the best . . . It will be painful to wait until next year for #10. So enjoyable to read the witty banter and unspoken thoughts of the well-defined and maturing characters."-5*
"Two thumbs up! This is an entertaining addition to the series! All the great stuff: mystery, drama, humor, favorite characters, and an amusing tale of annoying Thurston."-5*
"I live in Wyoming and love each of these stories"-5*
"Another triumph . . . I love everything from this author, especially this series and this book didn't disappoint, all the great characters were back again, a wonderful story with a brilliant twist at the end. A great read ( I read it at one sitting). Can't wait for the next book in the series . . . Can't you write quicker, Patricia."-5*
Don't miss any of the Caught Dead in Wyoming adventures:
Sign Off
Left Off
Shoot First
Last Ditch
Look Live
Back Story
Cold Open
Hot Roll
Reaction Shot
Body Brace
Cross Talk
Air Ready
Cue Up
What readers say about the Caught Dead in Wyoming series:
"When you start reading and chuckling, then laughing out loud, you're back at KWMT-TV in Wyoming."-5* 
"Lots of laughs and mystery as the gang solves yet another murder... Love the characters, and way they interact. And then there is Team Tom vs Team Mike... Every time I think I know who I am rooting for I end up changing my mind."-5*
"I enjoyed the writing and the characters so much that I went back to book one and read the whole series. I have since also read her Secret Sleuth series. It is also excellent . . . I just encourage potential readers to take the plunge and buy the book. You won't be sorry; better yet, buy the series." -5*
"I've loved this series for its humor, setting, heartwarming situations, well written characters, and intelligent mysteries to solve. The only thing I don't like is waiting a year for the next book."-5*
"Love this series from Patricia McLinn. The camaraderie between the characters is appealing and makes me want to join their team. The writing is flawless, which makes these books a pleasure to read. The mysteries are full of twists and turns that keep me doubting my predictions of the outcome to the very end."-5*
"I just adore this series."-5*
"I love 'Caught Dead in Wyoming' . . . Elizabeth, Tom, Mike, and the whole rest of the gang are absolute joys to get to know. Each character is different from the others; each one is fully fleshed out with a complete personality. And Tamantha is in a league of her own! Great plot and wonderful dialogue. How in the world will I be able to wait for the next volume?!"-5*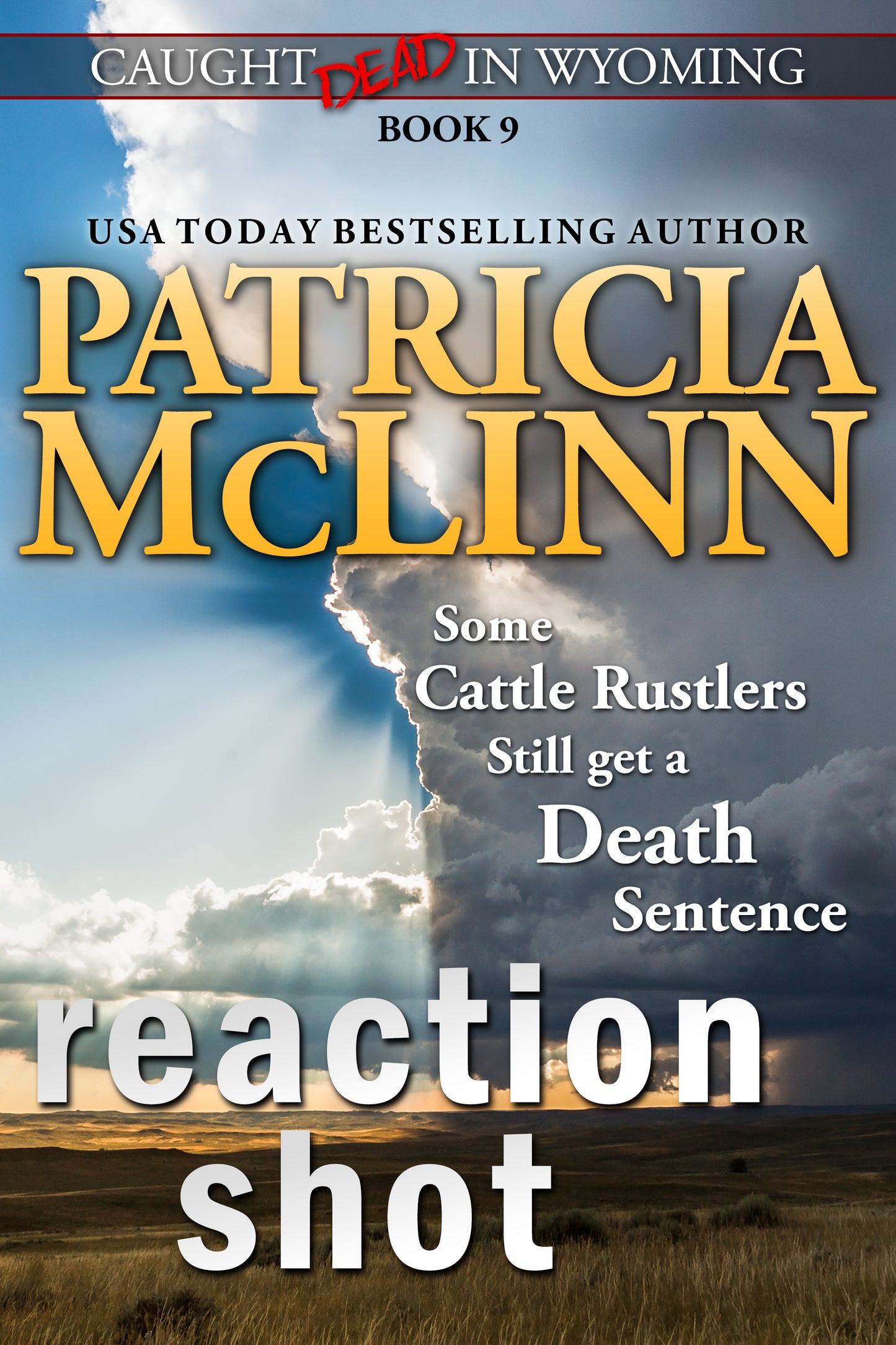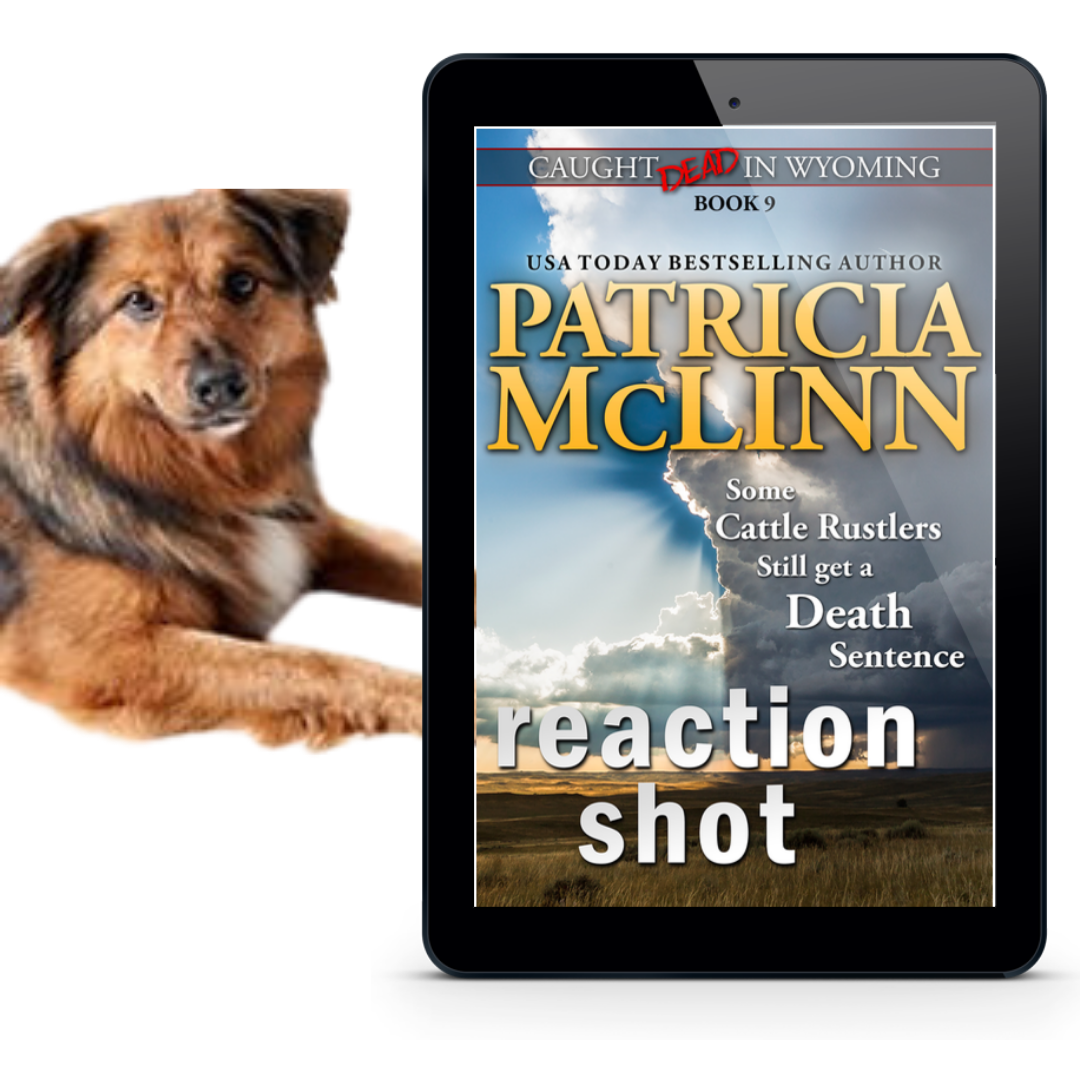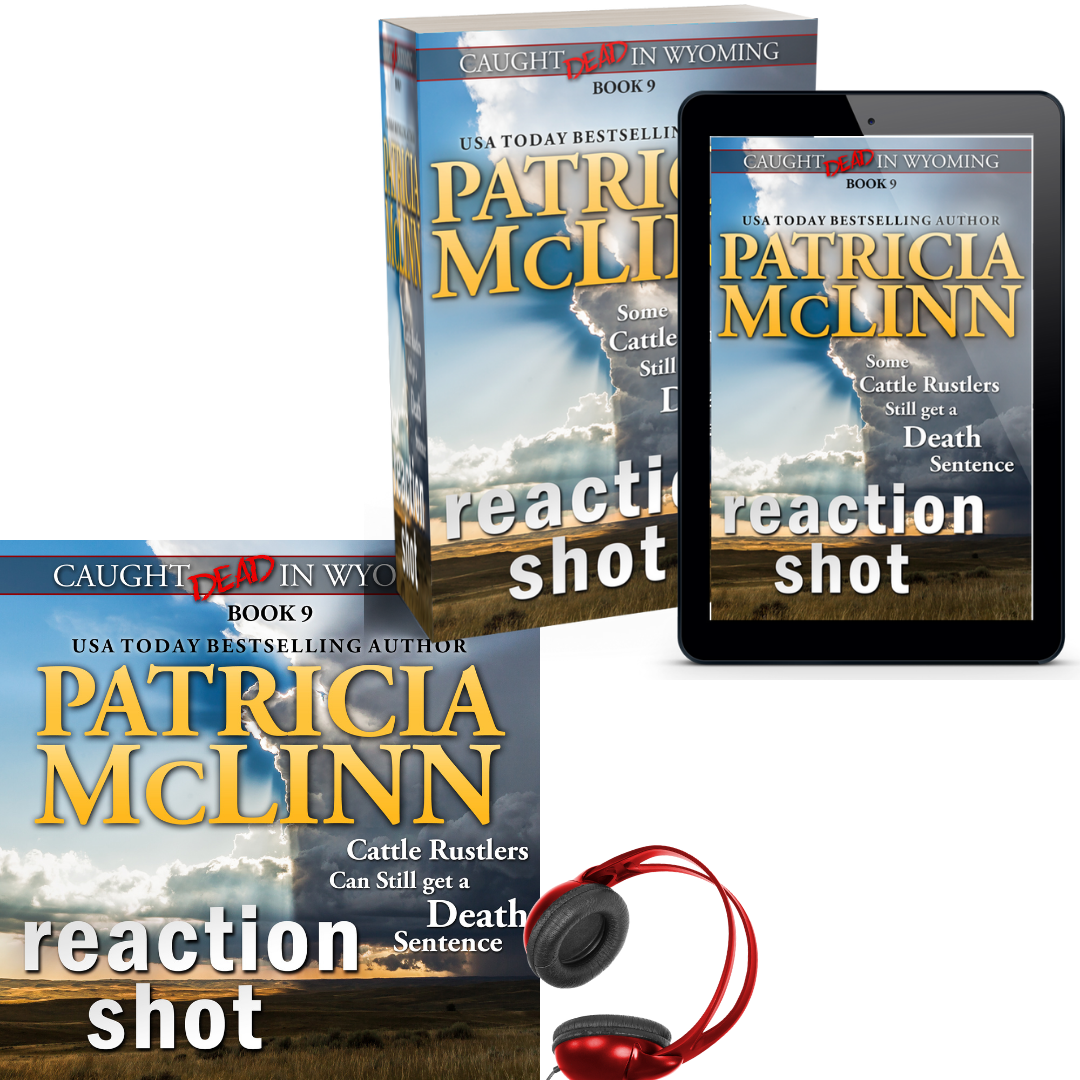 Family and friends
When I read this book I knew that the relationship between Mike, Tom and Elizabeth was going to go through some changes. The murder brings about many changes.
Enjoy visiting Wyoming
Fabulous series! Great characters, keeps you interested, logical progression, good plots. Wonderful!
Reaction Shot
I have read every book in Patricia McLinn's "Caught Dead in Wyoming" series. Every one has been an excellent read, that I hated to finish. I will throw in an admission here: Old retired curmudgeon cops aren't supposed to like books with much romance in them. I could say that the romance is held to a minimum, making it acceptable. That wouldn't be completely true. I found myself as interested in the romantic tension between the characters as in the mystery itself. I always look forward to McLinn's next book and get it as soon as it is available.