---
Read more in this series: Caught Dead in Wyoming
Regular price

$5.99 USD

Sale price

$4.99 USD

Unit price

per

Regular price

$7.99 USD

Sale price

$5.99 USD

Unit price

per

Regular price

$6.99 USD

Sale price

$5.99 USD

Unit price

per

Regular price

$6.99 USD

Sale price

$5.99 USD

Unit price

per

Regular price

$6.99 USD

Sale price

$5.99 USD

Unit price

per

Regular price

$6.99 USD

Sale price

$5.99 USD

Unit price

per

Regular price

$6.99 USD

Sale price

$5.99 USD

Unit price

per

Regular price

$3.99 USD

Sale price

$3.49 USD

Unit price

per

Regular price

$6.99 USD

Sale price

$5.99 USD

Unit price

per
---
Summary
Love and death decisions
Will murder take a break while Elizabeth Margaret Danniher sorts the future of KWMT-TV and her personal life?
Don't count on it.
A young woman comes to Elizabeth at KWMT wanting her help to solve a kind of theft Elizabeth has never encountered before. That's challenge enough, with the TV station for sale and the top candidate to buy it known for eliminating news departments. But Elizabeth also senses there something more bothering Hailey Newhall.
And then there's Elizabeth's personal life ...
Beyond her dog Shadow, it gets complicated.
She is drawn to both enigmatic rancher Thomas Burrell and her former KWMT-TV colleague Mike Paycik, the home-town sports hero. But Mike has career aspirations of his own, and Tom has a feisty daughter who's definitely Team Dad. Meanwhile, Elizabeth's ace videographer, Diana Stendahl, who manages to juggle her demanding job, parenting two teens, and new love, challenges Elizabeth to also open her heart.
Where will her heart lead her?
Team Tom? Team Mike? You're finally going to find out the answer ... and so is Elizabeth.
Air Ready, Book 12 of the Caught Dead in Wyoming series, is a smart, surprising, fast-paced cozy mystery with humor. If you like quirky characters, hints of romance and twists you won't see coming, then you'll love USA Today bestselling author Patricia McLinn's page-turner.
What reader are saying about AIR READY
"The best yet. If you have followed the series up to this book then you are in for a real treat. If you have not read all the books, go back right now and start with the first one. In Air Ready, we are reunited with the gang of amateur detectives/friends/ co-workers that we have come to love. The murder investigation they take on is a page tuner that will keep you up late reading . . . There are several mysteries to be solved here, making the storyline all the more interesting. Book 12 is just the best, such a satisfying read. And, as always, finishing a CDIW story only makes me want another new one to read right away. So glad I found this series."-5*
"Another fabulous story, telling of friendship, love, and let's not forget, murder."-5* 
"*Chef's kiss*…yes, that good. Air Ready is the book that took all the little strings and tied them up into a big beautiful bow with a promise of a whole of more. "-5*
"Wonderful continuation of a strong, fulfilling series. Love the characters old and new and the fascinating mystery that kept me wondering through twists, turns, and dead ends. HIGHLY recommend!"-5*
"Excellent! I love how this story unfolds. So many things happen in this story you just can't stop reading until the end!"-5*
"Long awaited, but very satisfying read."-5*
"All you need to know, this is a great book. Brilliant characters and E.M Danniher picked the right man. If you want to know who, buy the book. Loved it and can't wait for the next book"-5*
"We get to read the story we've been waiting for, that is Elizabeth gets her forever dream man. And very satisfying it is, I must say. Also, the TV station is bought, so job descriptions might change but stress in the newsroom decreases a bit. And last, but not least, crime needs to be exposed and solved and the KWMT team are up to the challenge. I just love this series"-5*
"Best book ever! "-5*
Don't miss any of Elizabeth Danniher's Caught Dead in Wyoming adventures: 
Sign Off
Left Hanging
Shoot First
Last Ditch
Look Live
Back Story
Cold Open
Hot Roll
Reaction Shot
Body Brace
Cross Talk
Air Ready
Cue Up 
What readers are saying about Caught Dead in Wyoming:
"What an enjoyable journey it's been reading this series! The characters are so easy to get know and like. Even the sheriffs of Cottonwood County!"-5*
"Patricia McLinn has the ability to weave fiction with facts so that I manage to learn something new in every book. I can't wait for the next one!"-5*
"Every one of the books in this series just keeps getting better! Patricia McLinn's 'Caught Dead in Wyoming' series is an outstanding read that builds on the ones before it."-5*
"The 'Caught Dead in Wyoming' series is one of my all-time favorites . . . My recommendation is start with the first book and read all twelve. You won't be disappointed."-5*
"Can't wait for the next book!!"-5*
"Top notch. Read this series and become as captivated with these characters as I am. You will not be disappointed. Waiting with bated breath for Book 13."-5*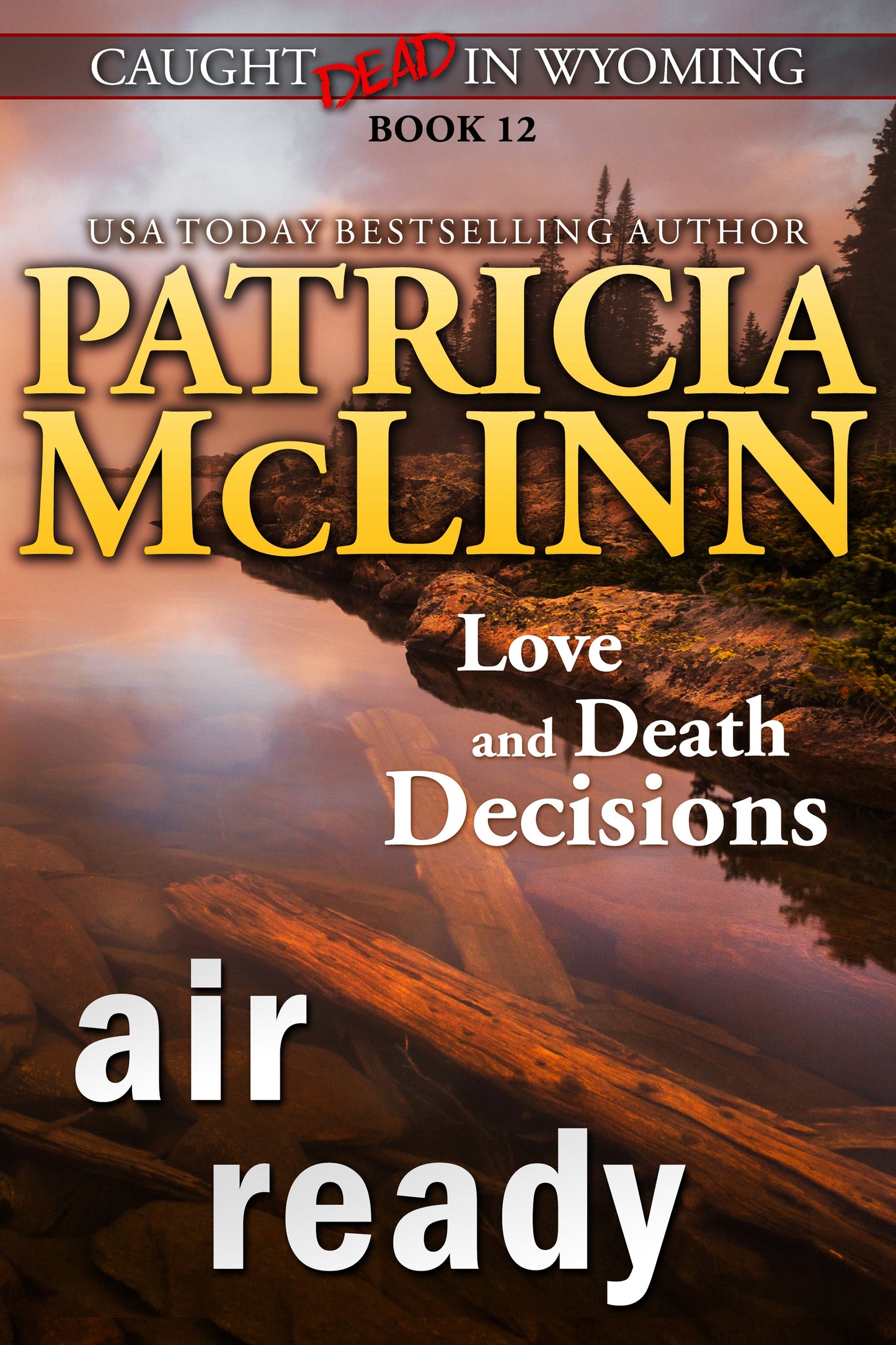 Great
Like all of the books in this series, this one is well written, interesting, enjoyable, entertaining and a joy to read.
Another success for writer & readers.
A multi fast paced mystery story!
Another well written book in the series Caught Dead in Wyoming! Kept me reading until late in the night! The intertwined story lines kept you guessing right up to the end! Never expected that Michael would purchase the tv channel, big surprise! I always enjoy the historical facts that the author includes in this series, always so interesting! Now that we know who Elizabeth is in love with cannot wait to read the next book in this series!
Great addition to the series
This had twists you didn't expect had me changing my thought on who did it. Characters show growth and we get the answer to what will happen with Elizabeth's relationships. This could be read as a stand alone since there is some background given to the characters but much better as a series.